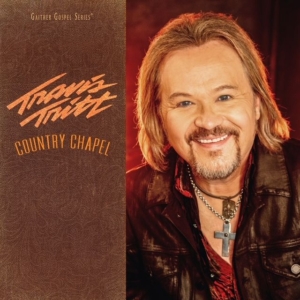 Multi-award-winning artist Travis Tritt is set to release his highly anticipated debut Gospel project, Country Chapel, taking listeners on a nostalgic journey back to his childhood roots. Captivating audiences with authentic renditions and powerful testimonies of redemption, this heartfelt album pays homage to Tritt's formative years within the comforting embrace of the Country Chapel.
Produced by Dave Cobb at Georgia May Studio in Savannah, Georgia, Country Chapel seamlessly blends traditional church harmonies with Tritt's signature award-winning vocal style, offering a unique and inspiring listening experience. This long-awaited Gospel project promises to be a defining milestone in Tritt's illustrious career, touching hearts and souls through the universal language of music.
Released by Gaither Music Group, Country Chapel will be available on September 15, 2023. The album's pre-sale begins tomorrow, July 21, 2023, with the release of Track #1, "When God Dips His Love in My Heart." Building anticipation, Track #2, "Like the Father Loves His Son," will be released on August 18, 2023. Finally, on September 15, 2023, the soul-stirring track, "Nobody's Fault But Mine," will be unveiled, serving as a testament to Tritt's remarkable musical journey and unwavering dedication to the Gospel genre. Country Chapel is distributed by Capitol Christian Music Group and Universal Music.
With a career spanning over three decades, Tritt has garnered numerous accolades and chart-topping hits. Known for his distinctive voice and powerful songwriting, Tritt continues to captivate audiences worldwide with his timeless music and electrifying live performances.
Tritt's albums, seven of which are certified platinum or higher, have led him to amass more than 30 million in career album sales, two GRAMMY® Awards, four CMA Awards, including the CMA Horizon Award (now known as the New Artist Award), a Billboard Music Award for Top New Artist, an invitation to become a member of the world-famous Grand Ole Opry and a devoted fan base that has filled venues coast-to-coast. He also charted more than 40 times on the Hot Country Songs Chart, earning five #1s and twenty Top 10 hits. Among his eleven studio albums and numerous charted singles are "Help Me Hold On," "Anymore," "Can I Trust You with My Heart," "Foolish Pride," "Best of Intentions," "I'm Gonna Be Somebody," "Modern Day Bonnie and Clyde," "Here's A Quarter," "It's A Great Day To Be Alive," and more. He is also dubbed one of "The Class of '89," which includes Country music superstars Garth Brooks, Clint Black, and Alan Jackson, who dominated the charts in the '90s.