"Grassy Cove" Featuring Sierra Hull Available Now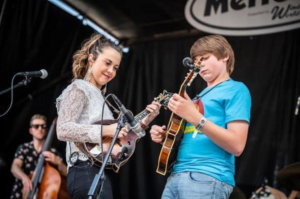 14-year-old bluegrass phenom Wyatt Ellis today released his much-anticipated debut single, "Grassy Cove," a mandolin-driven instrumental featuring critically-acclaimed performer Sierra Hull. The song, co-written by Ellis and Hull, is the first from an upcoming album set to be released on Ellis' Knee-High Records label, and is produced by award-winning multi-instrumentalist Justin Moses.
During the darkest days of the pandemic, Ellis was chosen by Hull for a Tennessee Folklife Apprenticeship to study the traditional art of bluegrass mandolin. Working with Hull ignited what his parents have described as a "musical fire" in the young musician. A then-11-year-old Ellis went from playing a few hours a week to playing a few hours a day. Eager to improve under the watchful eye of a true virtuoso, Ellis jokes that he "didn't put his mandolin down for three days" after finding out about the apprenticeship.
"Grassy Cove" was inspired by the rich musical history and natural beauty of Ellis' home in East Tennessee. When Ellis was 12-years-old, on the way home from his grandpa's house, he was driven through the picturesque community of Grassy Cove, TN at dusk. Seeing the fields lit up with sparkling fireflies, he hummed a simple melody. When Ellis got home, he quickly transferred the newborn tune to his mandolin. Fairly new to melody writing and a little unsure of himself, he brought the song to Hull for her opinion. Sierra jumped in with guidance, and along the way, added some very special touches.
"Wyatt came to me with an already existing three-part chord progression and a melody," explains Hull. My hope was to simply point him toward some inspiration and encourage him to explore the entire instrument outside of first position while still keeping a strong melody as the core of the tune. He drove the train and I was simply along for the ride!"
"Grassy Cove" was recorded in early 2021 with Sierra's husband, award-winning multi-instrumentalist and fellow East Tennessean, Moses, as producer. It was the young musician's first experience in a recording studio.
"Being in a recording studio for the first time was a dream come true for me. It was surreal to listen through my headphones to my heroes recording a tune I had written. We were all so excited to be making music together in real life after almost two years of only online collaborations," Wyatt recalls.
Holding his own with the best of them, Ellis was joined in the studio by a stellar list of who's who of bluegrass musicians. In addition to the twin mandolin parts covered by Ellis and Hull, also on the track is Deanie Richardson (fiddle), Cory Walker (banjo), Mike Bub (bass), and Justin Moses (guitar).
"It's really thrilling to see a young musician like Wyatt dive into his music so full-heartedly," Hull adds. "He's steeped in bluegrass tradition, but has the love and musical curiosity to keep learning, growing, and expanding."