COUNTRY MUSIC
AMERICA'S MUSIC HAS A NEW VOICE…
Nashville Insider is a fast-paced syndicated country music entertainment news series with new episodes airing each week. This exciting program gives the Nashville Insider viewers a sneak peak at all things country music. We go behind the scenes to provide access to fans' favorite artists and country music's hottest events. We deliver the latest in trending headlines and social media. We provide up-to-the-minute reporting, making Nashville Insider the go-to-source for country music news and information, and the only TV series of it's kind from the heart of Music City.
COUNTRY MUSIC COMMUNITY MOURNS THE LOSS OF MICKEY GILLEY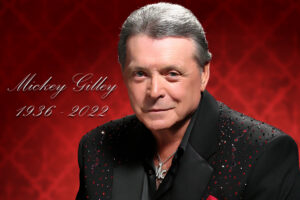 Country music hitmaker, actor, and Academy of Country Music award-winner Mickey Gilley died at the age of 86 in Branson, Missouri. Known for launching the Urban Cowboy movement in Country music and hit songs including "Stand By Me," "Room Full of Roses" and "Lonely Nights," Gilley passed peacefully with his family and close friends by his side. He had just come off of the road, having played ten shows in April.
Gilley, a native of Natchez, Mississippi, influenced generations of country singers for decades with his signature, haunting combination of Louisiana rhythm and blues and country-pop crossover melodies. He grew up with his two famous cousins, Jerry Lee Lewis and Jimmy Swaggart, surrounded by the influence of music.
The son of Arthur Fillmore Gilley and Irene (Lewis) Gilley, Mickey learned how to play piano from Lewis and dabbled in boogie-woogie and gospel music early in his career before finding his professional footing in the '70s with "Room Full of Roses." Hits "Chains of Love," "Honky Tonk Memories," "She's Pulling Me Back Again," and "Here Comes the Hurt Again" followed as his honky-tonk gave way to the more progressive countrypolitan. Throughout the course of his career, Gilley scored 39 Top 10 hits and 17 #1 hits including "City Lights," "Window Up Above," "Don't The Girls All Get Prettier At Closing Time," "Bring It On Home To Me," "Stand By Me," "Lonely Nights" and more.
In 1971, Gilley opened his world-famous honky-tonk Gilley's in Pasadena, Texas, which sparked a chain of the famous nightclubs. In 1980, Gilley splashed into pop culture when he appeared in the smash hit movie "Urban Cowboy" alongside John Travolta, Debra Winger and Johnny Lee. Gilley's served as the backdrop for the film, which helped launch his acting career and put his music career on a whole new level. Gilley went on to star in popular television series including "Murder She Wrote," "The Fall Guy," "Fantasy Island" and "Dukes of Hazzard."
Gilley was widely recognized for his work in music and movies, earning numerous accolades, including six Academy of Country Music Awards, a star on the Hollywood Walk of Fame and was inducted into the Texas Country Music Hall of Fame in 2011. He was one of only a handful of artists to receive the Academy of Country Music's Triple Crown Awards.
Gilley was preceded in death by his wife, Vivian. He is survived by his wife Cindy Loeb Gilley, his children Kathy, Michael, Gregory and Keith Ray, four grandchildren and nine great grandchildren and his cousins Jerry Lee Lewis and Jimmy Swaggart.
Fellow artists and friends mourn the loss of their friend and share memories Mickey Gilley:
"My heart will forever break over the loss of my dear friend Mickey Gilley. He believed in me when no one else did. Losing Gilley feels like a bad dream and sadly it's not. He loved his fans more than anything in the world and taught me everything I needed to know about country music. He always told me if I thought it was going to rain, to always grab my umbrella. My prayers are with Cindy during this very difficult time."- Johnny Lee
"Mickey Gilley and I have been friends since his 'Urban Cowboy' and my 'Any Which Way You Can' movie days. We had performed a lot around the country together and especially at his Gilley's Club in Texas. We had quite a time! Gonna miss you!" – David Frizzell
"I enjoyed working on Mickey Gilley records as a backup singer, with the great Eddie Kilroy as producer. One of the first big concerts I played was Gilleys in Pasadena, TX and was amazed at the bucking bull machine! Mickey's image and memory will be forever." – Janie Fricke
"Just when we think our hearts can't take anymore, we get the news that our dear close friend Mickey Gilley has passed. He truly altered the course of country music. Doing concerts with him through the years was always an incredible experience. We were fortunate to have gotten to see one of his last concerts just recently. His voice was great and strong as ever. Our prayers are with Cindy, the family, and his many fans. Rest easy our friend and know that you will be deeply missed." – TG Sheppard & Kelly Lang
"I am heartbroken by the passing of Mickey Gilley. I started out my career opening for Mickey. He was such a great person and entertainer. I have loved him ever since." – Crystal Gayle
"Once again we have lost another country music star and a long-time friend. Rest In Peace Mickey Gilley until we all sing again. In the meantime, we will miss you brother." – Joe Bonsall / The Oak Ridge Boys
"Mickey and I did so many shows together. I feel Mickey and Johnny are like brothers from another mother and this loss hits hard and he will be sorely missed. I truly respect him as a musician and he was a great entertainer. My thoughts are with his family and friends." – Lacy J. Dalton
"We just lost a great human being. Mickey Gilley has been honky-tonkin' since the '50s. "Urban Cowboy" secured him a spot in America's consciousness and he's been in our minds ever since. He lived a full life and left us with a great catalog of hits. One of the things that I'm most proud of is that over the years we have become close. The times we spent together doing shows, cruises, or just talking were a gift. Sheila and I will miss him a lot. Please keep his family and friends in your prayers." – T. Graham Brown
"Another great loss in Country Music – so sad to hear of the passing of Mickey Gilley. Our paths crossed a few times being in Branson; and Gene Watson and I did his TV show. I loved the day I was fortunate to hang out backstage with Johnny Lee & Mickey Gilley during one of their shows. Great stories and great memories. May He Rest In Peace." – Rhonda Vincent
"My heart is broken at the loss of Mickey. I treasure all the times we got to work together and there were never enough. He and Johnny Lee brought a new dimension to country music with the urban Cowboy trend and brought new fans to the genre. Whether it was a boogie or a ballad, Mickey made it his own, no matter how many times it had been done before, and it would become my favorite version. He was loved and respected and he will be so greatly missed." – Jeannie Seely
Be an Insider!
Join our email list and get the latest news about your favorite country music artists, concerts and events.