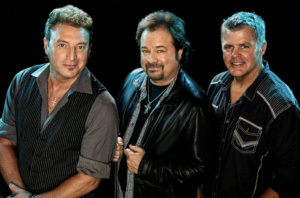 More new tunes have arrived from
 The Frontmen
. 
The trio,
consisting of
Larry Stewart
 of Restless Heart; 
Richie McDonald
, formerly of Lonestar; and 
Tim Rushlow
, formerly of Little Texas, today released two new songs via 
BMG/BBR Music Group
. "
God Blessed Texas (The Frontmen Edition)
" and "
It Was Always You
"
are available now through all digital streaming music providers.
Today's newly-released songs from The Frontmen feature Rushlow singing lead on Little Texas' 1993 smash hit, "God Blessed Texas (The Frontmen Edition)," as well as "It Was Always You," an all-new tune written by Rushlow and Danny Orton.
"When Danny Orton and I wrote 'It Was Always You,' we were pulling from personal experiences and especially some of my own," says Rushlow. "This song is a reminder that real love can heal wounds and help you paint your life with a new canvas. It
'
s sort of an anthem that tells somebody how you really feel about them, even years later."
"Doing iconic hit songs from our past was not something we took lightly," continues Rushlow. "With the help of our producer, Mickey Jack Cones, we were able to pay homage to the original master recordings, but also put our own 'Frontmen spin' on the songs, and I couldn
'
t be more proud of this rockin' new version of 'God Blessed Texas (The Frontmen Edition).'"
Earlier this year, The Frontmen debuted "Amazed (The Frontmen Edition)" and "Left Their Mark," (with McDonald singing lead on both tracks). More music, of which will be included on an upcoming EP, will be released soon, with the next round featuring lead vocals by Stewart. Two-time GRAMMY-nominated Mickey Jack Cones is producing the project.