New Album Out September 8, 2023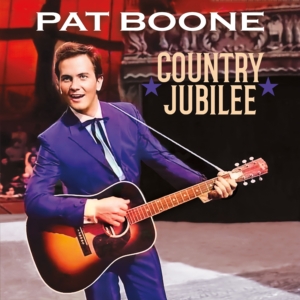 Legendary entertainer Pat Boone marks his 70th year in show business with a momentous and nostalgic return to his Nashville roots through this highly-anticipated career milestone Country music project, Country Jubilee. The album is now available for pre-order here and for pre-save here.
Scheduled for release on September 8, 2023, the album promises to captivate audiences with its blend of classic hits and new, toe-tapping tracks. Country Jubilee is set to be released on Boone's own 20-year-old music imprint, The Gold Label, with Pat Boone serving as the Executive Producer, and Dana McElwain as the Producer.
With an illustrious career spanning decades, Pat Boone remains a prominent figure in the entertainment industry as a singer, actor, songwriter, and author. Having left an indelible mark on various music genres, he now returns to the heart of Country music, paying homage to the genre's rich history while delivering a fresh and vibrant collection of songs.
At the core of Country Jubilee are 25 tracks, carefully curated to showcase Pat Boone's unique interpretation of Country classics. The album proudly presents five of Boone's Top 100 Country recordings, allowing fans to relive some of his most cherished performances. Country Jubilee also features a brand-new rendition of the beloved duet and Billboard #1 hit, "You and I," featuring the incomparable Crystal Gayle.
One of the album's standout tracks is Boone's original composition, "Grits," tailor-made for the line dancing community. This foot-stomping, heartwarming song is an ode to Southern traditions, embracing the spirit of camaraderie and joy that defines the Country music experience. Adding to the excitement, "Grits" features an ensemble of esteemed guest artists, including Ray Stevens, The Gatlin Brothers, Lorrie Morgan, Deborah Allen, and Dean Miller. The official music video for "Grits" can be viewed here.
In celebration of the release, a Commemorative Edition 2 LP 180 Gram Vinyl set will be released, allowing fans to experience this timeless music in the classic analog format. This special vinyl edition features a Gatefold design and includes a 20-page booklet that contains The Story Behind the Songs compiled by hit Country songwriter Frank Myers, I Remember Red (influence of father-in-law and Country music pioneer and Grand Ole Opry co-founder Red Foley), lyrics, and archival and behind-the-scenes photographs.
This booklet offers an exclusive glimpse into the inspirations and stories behind the creation of the album's tracks, making it a cherished keepsake for devoted fans and collectors. Country Jubilee is also available as a 2-CD set.
Pat Boone's return to Country music exemplifies his enduring passion for his roots in Country music and dedication to connecting with audiences through the power of these beloved classics. Country Jubilee is a testament to his unwavering talent, versatility, and ability to transcend generations and genres, making it a must-have addition to any music enthusiast's collection.
As the release date approaches, fans and music lovers alike can anticipate an album that not only commemorates Pat Boone's remarkable journey in show business but also celebrates the enduring charm of Country music.