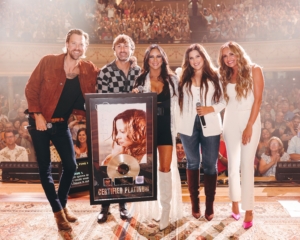 It was a special night of music and surprises for everyone last Thursday night at the Ryman Auditorium, where country music star Sara Evans commemorated the 20th anniversary of her album Restless.
After welcoming the crowd to the sold-out celebration, Evans launched into the Restless album, in sequential order, telling stories and welcoming guests to the stage along the way. Lady A's Charles Kelley and Dave Haywood joined for a powerful performance of "Tonight" and Grammy, CMA and ACM Award winner Carly Pearce capped the Restless album portion with a roof-raising rendition of the No. 1 smash, "Suds In The Bucket."
After the song, Pearce called Kelley and Haywood back to the stage and welcomed Lady A's Hillary Scott to surprise Evans with a Platinum Plaque for "Suds In The Bucket."
But the fun was only beginning as Scott brought out Grand Ole Opry member and legend Bill Anderson who recalled seeing Evans in a small warehouse showcase where she performed songs from her forthcoming debut album, and one of the songs she recorded was "Walk Out Backwards," a song he had written and recorded in the early 1960's.
He then told Evans he had two questions for her. The first was if she could sing a bit of that song to which she immediately broke out in a verse and chorus of the vintage tune.
The second question was would she like to become a member of the Grand Ole Opry, to which Evans tearfully and playfully said "No," followed by "Of course, I would never say no to that question." Afterwards he played a video message from another Opry great, Dolly Parton, congratulating her.