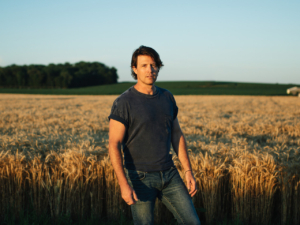 Indiana's own Clayton Anderson has joined the star-studded Farm Aid 2023 lineup, following an invitation from his musical hero and fellow Indianan (and Farm Aid board member), John Mellencamp.
"I've dreamed of playing Farm Aid and have attended as a fan a few times," says Anderson, whose latest album Made In The USA (Visionary Media Group), includes the tribute single to his home state, "Indiana."
"I grew up in a family farming community. I spent a lot of my summers working on these farms, from putting up hay to milking cows. Nobody works harder than the American farmer. Unfortunately, I feel the farmer gets caught up in the politics and doesn't always get the fair end of the stick. I've followed Farm Aid ever since I was a kid—John Mellencamp is the reason why. He's my musical hero. He's always fought for the family farmer. It gives me so much honor to be invited by him to perform this year, lending my voice to the fight to save and protect our family farms. It's the right thing to do."
Held at Ruoff Music Center in Noblesville, IN on Saturday, September 23, Farm Aid 2023 will reunite family farmers and musician activists, with performances by Farm Aid board members Mellencamp, Willie Nelson & Family, Neil Young, Dave Matthews & Tim Reynolds, and Margo Price, as well as Bobby Weir & Wolf Bros featuring The Wolfpack, Lukas Nelson, Nathaniel Rateliff & The Night Sweats, Allison Russell, The String Cheese Incident, and Particle Kid.
Farm Aid 2023 is currently sold out. Check the LiveNation website for any tickets that get released for sale leading up to the festival. The festival will stream live in HD at farmaid.org, starting at 11:30am EDT ON Saturday, September 23, 2023 and will also stream live on Farm Aid's YouTube channel.