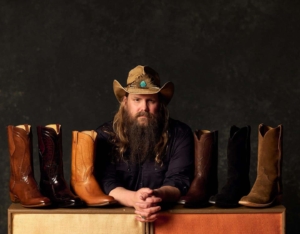 Lucchese Bootmaker, the iconic heritage brand, is no stranger to legendary, storytelling partnerships. Recently released is Lucchese's special custom collection in collaboration with 8x Grammy-Award winning artist, Chris Stapleton. The Lucchese x Chris Stapleton collection demonstrates the dedication, patience, and a love for the craft, which lace the foundations of what Lucchese and Stapleton both do so well, creating a harmonious and inimitable result. A portion of proceeds from every Lucchese x Chris Stapleton collection purchase will benefit Chris & Morgane Stapleton's charitable fund, Outlaw State of Kind.
While this collaboration project officially began in 2018 with product ideation, one could argue it had been brewing for many years before then, thanks to Lucchese and Stapleton's mutual appreciation and respect for one another. This friendship began nearly ten years ago in El Paso, Texas, with Stapleton's first visit to the Lucchese factory following a tour stop, and, now, the collaboration marks the culmination of a five-year journey between Lucchese and Stapleton. The result is a distinct suite of boots that seamlessly marries the artistry of bootmaking, storytelling, and philanthropy, with a portion of proceeds benefiting the star's charity, Outlaw State of Kind. With his deep love of Lucchese being so evident from his collection of vintage boots to the Lucchese shirts his band wears on tour, this artistic joining of forces made for the most effortless collaboration.
"We are so delighted to welcome Chris Stapleton to the Lucchese family. If there was ever a relationship that was meant to be, Chris and Lucchese would be the one," says Doug Kindy, Lucchese Bootmaker President. "Chris is at the top of his craft and continues to embody ingenuity, creativity, and soul throughout his illustrious career — all values we share and admire at Lucchese."
"I'm of the mind that everything can be refined to an art," says Stapleton, "and that's what I love about Lucchese boots — they've taken bootmaking and refined it to an art."
The collection features three unique boot styles, each in two colorways, that are handmade in Texas – The Original, San Antonio, and Old Friend. The Original is a direct pull from the archives and is a replica of the first pair of boots Chris Stapleton ever designed during his first visit to the Lucchese factory. These all-American Buffalo boots boast a hand-corded moccasin toe that is a testament to the craftsmanship and attention to detail that Stapleton and Lucchese celebrate. The San Antonio is an echo of Lucchese's vintage designs, featuring a colorway in the brand's coveted Black Cherry finish. The boots are made with a brush-off Santini goat with a high-shine finish and historic Seville hand-cording detail, inspired by the San Antonio factory. Finally, the Old Friend bridges the gap between grit and traditionalism thanks to its Western silhouette and supple suede leather, acting as the "songwriters' uniform," and paying homage to Stapleton's heroes who, in fact, feel like old friends.
"Lucchese boots are what cowboy boots are supposed to be," says Stapleton. "I can't wait for people to try them on and find out what I already know: when you put a pair of these on, you don't need anything else."
Lucchese's rich legacy, spanning well over a century, has long been regarded as the epitome of masterful bootmaking. The brand's commitment to exceptional quality, meticulous attention to detail, and perfect blend of traditionalism and innovation has set the label apart in the industry, making it the preferred choice for connoisseurs and newcomers alike.
"Lucchese has been hand-making boots and leather goods the American way for 140 years, and this is as proud as we've ever been," says Kindy. "We are proud, not only to call Chris a friend and to call ourselves fans, but also to have the unique opportunity to create a line of boots that honors Chris Stapleton, both personally and professionally."
The Lucchese x Chris Stapleton collection is available for purchase in-store at all Lucchese retail locations and through Lucchese's official website.