The Sisters' Cover of Classic "Where Are You Christmas?"
Featured in Hallmark Movie of the Same Name; Debuted Oct. 21 on 
Hallmark Channel and is Set to Re-Air Weekly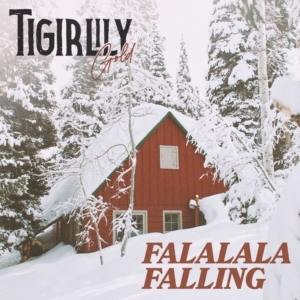 Monument Records' sister duo Tigirlily Gold is "Falalala Falling" into the Christmas spirit, releasing their whimsical original Christmas song today via Monument Records. Written by Kendra and Krista Slaubaugh, alongside Alex Kline and Scott Stepakoff, "Falalala Falling" captures the romanticism of the holidays spent with a loved one.
"During the holiday season, there's always a little extra magic in the air that makes you want to fall in love even more! 'Falalala Falling' is all about capturing that feeling of being with the one you love, snuggling up by the fire, and watching the snow fall," share Kendra and Krista. "We grew up in North Dakota, and we are all too familiar with getting 'snowed in,' but it's not always the worst case scenario if you're snowed in with the one you love!"
Keeping in the holiday spirit, Tigirlily Gold's 2021 cover of Faith Hill's classic "Where Are You Christmas?" is featured in a 2023 Hallmark movie of the same name, which debuted last Saturday, Oct. 21 on Hallmark Channel. The movie, starring Lyndsy Fonseca, centers around her character, Addy, who wishes for a year without Christmas, and comes to regret it when that wish comes true. It will re-air every week.
Tigirlily Gold spent more than five years honing their craft on Nashville's Lower Broadway, honing their stage presence and songwriting while delivering four-hour sets, three to four nights a week. Born from those years spent entertaining the rowdy Broadway crowds, their debut EP Blonde, released earlier this year, captures that energy while highlighting the girls' versatile songwriting.
The sisters recently performed their top-40 hit "Shoot Tequila" off Blonde on "TODAY with Hoda & Jenna." The upbeat party anthem is reminiscent of the push and pull of a toxic relationship, nodding to the irresistible temptation of caving to the "bad influence" of a tequila-induced night.
"Falalala Falling" comes as they prepare to release more new music, with their debut full-length album due in early 2024. For the latest information visit, tigirlily.com and follow along on Twitter, Instagram and Facebook @tigirlily and on TikTok @TigirlilyGold.
About Tigirlily Gold:
Sister duo Tigirlily Gold has been playing music together since they could walk, and officially formed their band in high school. Growing up, they crisscrossed the mid-west, growing a fierce fan base and selling out amphitheaters across their home-state of North Dakota. After moving to Nashville, they landed a weekly residence at Dierks Bentley's Whiskey Row on Nashville's famed lower Broadway. Playing four-hour sets, three to four nights a week, the sisters developed a performance style that's not only captivating and fun but shows just how much entertaining is in their blood.
After releasing their original song "Somebody Does," in 2021, the track topped the iTunes chart and Tigirlily Gold was signed to Monument Records. They released their self-titled, debut EP in July 2021, working with multi-Grammy Award Winner Shane McAnally, and hit the road with artists like Walker Hayes and Ashley McBryde.
Now, the powerhouse duo has embarked on a new musical chapter with their EP, Blonde – a deeply personal project that includes tales of love and loss alongside powerful anthems and songs of female empowerment. Their current single, "Shoot Tequila," has already found viral success with millions of views across social media, and millions of streams across platforms. The song is climbing the country radio charts now. Ready to bring girl group energy back to country music, Tigirlily Gold is poised for a breakout year.