New "Stars and Stripes" Music Video & 2024 Tour
Video set to rollout on Friday, Nov. 10 on Creed's YouTube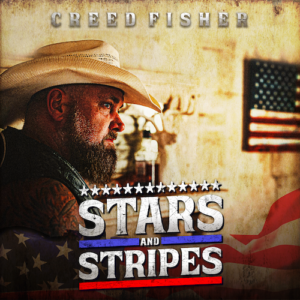 American outlaw country singer-songwriter and recording artist Creed Fisher honors the service and sacrifice of America's military veterans and their families in a new music video for his self-written tearjerker song "Stars and Stripes." This Friday Fisher's official "Stars and Stripes 2024" Tour tickets go on sale at CreedFisher.com at 10am ET and the new music video goes live on Creed's YouTube at 12pm ET.
"I'd like to give a special thank you to all the servicemen and women who played a special part in the creation of this video," Fisher said. "Having true veterans be a part of this gave it a real genuine aspect that I'll forever value. I'll always proudly honor our great country with pride and respect, never undervaluing the sacrifices that our brave service men and women give for our privilege to live in the land of the free. The Stars and Stripes Tour begins in 2024 and I encourage all members who have and/or are serving our country to come out and enjoy a show. I'd personally love to shake each one of your hands in appreciation for your service to our country. May God bless our families and freedoms, May God protect those who serve both domestically and abroad, and May God always bless the United States of America!"
"Stars and Stripes" plays on Creed's newly released 12 song studio album, This Ain't The Hamptons and is available for streaming everywhere digitally.