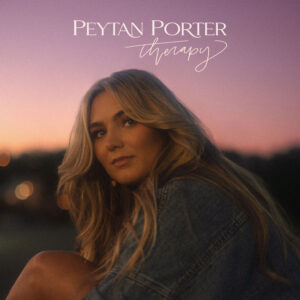 Coming into her own in Nashville's writers rooms, 23-year-old rising singer-songwriter Peytan Porter quickly realized that, for her, the only songs worth writing and singing are songs with something to say. That stance is on full display in her debut single, "Therapy," available now. Listen HERE.
"I've always been drawn to an empowered perspective that's more rooted in self-awareness," Porter shares. "That doesn't leave much time for dwelling on the way people choose to treat me, and instead, makes me focus on what I can do to change my own situation."
With resolve to put her well-being first, Porter's purposeful track was written alongside Micah Carpenter, Jonathan Hutcherson and Mackenzie Carpenter, and produced by Greg Bates and Evan Cline. The wise-beyond-her-years songwriter signed her first deal as a joint venture with Jody Williams Songs and Warner Chappell Music in early 2021.
In "Therapy," Porter finds relatable strength not through tearing anybody else down, but through building herself up, while her dynamic soprano communicates hurt and hope before a listener even begins to mull over her lyrics:
So I'm giving me some
Therapy
Taking back the time you took away from me
People always told me you were bad for me don't be mad at me
While I take a little time to focus on my recovery
Do a little personal discovery
Of who I am now that you got a piece of me
Baby let me be
I gotta get through a little therapy
Growing up in small town Dawsonville, Georgia, Porter always believed her singing would take her somewhere else. It did. She moved to Nashville in 2016 to attend Lipscomb University but she never truly left Dawsonville behind. As the middle child in a family of three daughters, she mastered the art of balance. That balancing act has also applied to her sense of place: Porter has held on to her rural roots while chasing city aspirations. Busy co-writing, collaborating and recording, Porter is eager for more music lovers to finally hear her work. Fans can anticipate more new music from Porter in the coming months.
https://nashvilleinsider.tv/wp-content/uploads/2018/04/logo-yes.png
0
0
Michael Glynn
https://nashvilleinsider.tv/wp-content/uploads/2018/04/logo-yes.png
Michael Glynn
2021-11-06 17:23:25
2021-11-06 17:23:48
SINGER-SONGWRITER PEYTAN PORTER MAKES EMPOWERED DEBUT WITH SINGLE "THERAPY"