"It Matters To Her" Continues Climbing the Charts in the
Top 5 on the Mediabase Chart + Top 7 on the Billboard Chart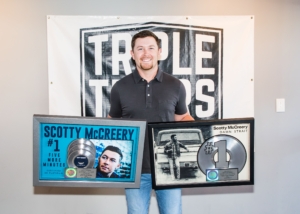 Triple Tigers recording artist Scotty McCreery continues to reach new milestones as "Five More Minutes," the first of five consecutive No. 1 singles, reaches RIAA Triple-Platinum Certification, while "Damn Strait," the most recent of his back-to-back hits, reaches RIAA Platinum status.
"I've always said that 'Five More Minutes' is my favorite song I've ever written. For it to become my first Triple Platinum single means it has really connected with the fans, and as a songwriter that's what you hope for," said McCreery. "'Damn Strait' is one of the most fun songs I get to sing live each night. I'm excited to see the success of both of these songs recognized by the fans and the RIAA."
Written by McCreery with Frank Rogers and Monty Criswell, "Five More Minutes" earned him one of five BMI Awards for writing One of the Top 50 Country Songs of the Year and inspired two popular Hallmark Movies & Mysteries Network holiday movies with "Five More Minutes" and "Five More Minutes: Moments Like These."
The second single from his latest album Same Truck, "Damn Strait" was written by Trent Tomlinson and Jim Collins and spent three weeks at the top of both the Mediabase and Billboard charts, along with being named one of "The 10 Best Country Songs of 2022" by Billboard.
McCreery's current and fastest rising single of his career "It Matters to Her," co-written with Rhett Akins and Lee Thomas Miller, continues to climb in the top 5 on the Mediabase chart and top 7 on the Billboard chart as he joins the Brooks & Dunn REBOOT Tour, continuing tonight at Legacy Arena in Birmingham, Alabama, along with additional headlining shows sprinkled throughout the summer.
Earlier this month, McCreery surprised fans with the new digital track "Why She Gotta Be Like That" featuring Colombian singer/songwriter GUSI. The North Carolina native discovered the Latin sensation on social media performing his song "Why You Gotta Be Like That" and was struck with the idea for a duet between the two featuring both Spanish and English verses.