Ryan Kinder Runs The Country Music Gamut On Debut Room To Dream Two new singles "Hell Is" and "Blame" available now; Album out July 31st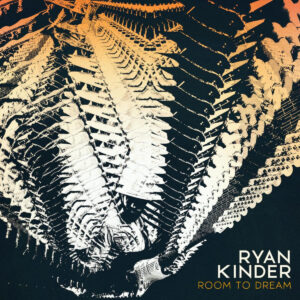 April 23, 2021 – Nashville, TN – "It's a riff-roaring rock with a sweet side of Southern soul." That's how country music's newest renaissance man 
Ryan Kinder
 describes the sound of his debut album Room To Dream, and he's certainly not wrong. In the age of fitting a mold, Kinder has preserved the influences and nuances which set him apart from the crowd on his road warrior ascent to streaming stardom. Room To Dream leaves distinctive space for the fuzz-laden guitar licks and the feel-good drum programming; Kinder's signature blend that has attracted droves of fans through exceptional musicianship and electrifying live shows. Yesterday, fans were treated to sneak peeks of two songs from Room To Dream ahead of its July 31st release.
Yesterday, 
Sounds Like Nashville
 premiered "Hell Is," a radio-ready heartbreaker inspired by an argument overheard in a YMCA locker room. Kinder remembers, "I began writing on my Notes app on my phone immediately and brought what I wrote into the session I had that day with Kevin Bard and Clare Dunn." "'Hell Is' brings to life the raw, agonizing emotions that follow a heartbreak," the Sounds Like Nashville article reads. "With its genre-blurring arrangement, Kinder's soul-crying delivery is augmented as he recounts his insufferable emotional state." On the other hand—and further illustrating the ground Kinder covers on Room To Dream—
Raised Rowdy
 shared a video for "Blame," a huge-sounding, guitar-laden rocker driven along with stomps, claps, and thick background vocals. Raised Rowdy praised the track, stating, "It's loud, hits hard, and gets your attention from the start," before claiming, "the track highlights just how powerful his vocals truly are while giving listeners a taste for his range at the same time." Fans can hear both of these singles now at 
this link
.
Kinder's "dream" started way back on a family vacation in Destin when he was roused from a backseat nap by his mom's John Mayer CD. "As a kid, so many things can catch your interest, and they're fleeting, but this enraptured me. I was locked into these lyrics," he remembers. "I took the record from her and listened to it and listened to it." The encounter inevitably led to a switch to guitar class in middle school and hours on hours of learning to play on a borrowed instrument. Eventually, Kinder got his own guitar and started building his momentum by playing local bar gigs before he was of age. His dad would sit by the door with the bouncer while his mother slept in a booth because she worked the early shift of a nursing job.
Things started moving quickly after that. When Kinder enrolled in college in Tuscaloosa, Alabama, he carved out a schedule of going to class on Tuesday, Wednesday, and Thursday, then playing gigs on Thursday, Friday, and Saturday nights. Then on Sunday, he'd drive up to Nashville to write songs with his mentor, Nashville producer Keith Stegall (Alan Jackson, George Jones, Zac Brown Band), and other songwriters before driving back to Alabama on Monday afternoon to start the whole cycle again. A couple of unfortunately short-lived record deals came and went before Kinder secured the opening slot on a huge tour with some of his heroes; ZZ Top and John Fogerty. It was on that tour that Fogerty gave Kinder a piece of advice that's carried him steadily through to today. "Don't play to the empty seats," he imparted. "It took me a couple of days to figure out what he was talking about," Kinder says, "and it was as simple as playing to the people who are there, who care enough to come early and hear the guy that nobody knows about. I think about that every time I go on stage."
Today, Kinder is a proudly independent artist and he's ready to share Room To Dream. "I had a lot of time to figure out what I wanted to do after a certain time in my life, and all these songs came together with different aspects of who I was when I wrote them," he concludes. "It was a beautiful realization that some of the bad things and not-so-fun situations led to the opportunity for me to have the room to dream, and to really be myself."
Room To Dream Tracklist:
Something
Hell Is
Room To Dream
Tangled Up
Blame
Southbound
Want
Friends
Jane
Nothing But Time
https://nashvilleinsider.tv/wp-content/uploads/2021/04/RyanKinder.jpg
1200
1200
Michael Glynn
https://nashvilleinsider.tv/wp-content/uploads/2018/04/logo-yes.png
Michael Glynn
2021-04-27 19:00:20
2021-05-02 19:24:30
Ryan Kinder Runs The Country Music Gamut On Debut Room To Dream Two new singles "Hell Is" and "Blame" available now; Album out July 31st