RHYTHM, REBELLION AND RESPECT RATTLE ERIC CHURCH'S SOUL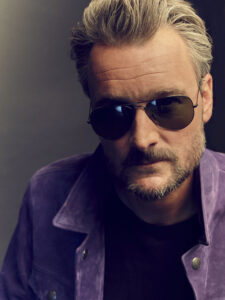 NASHVILLE, Tenn. – Reigning CMA Entertainer of the Year and 10-time GRAMMY nominee Eric Church continues to give fans new music with today's release of Soul, the third chapter of his critically acclaimed Heart & Soul trilogy. Featuring nine songs, including current Top 10 single "Hell Of A View," the album is the final installment of music from his now-famous sequestered session in rural North Carolina early last year.
"The thing that made it three projects, to me, was the songs grouped together differently," Church recently explained to Rolling Stone regarding his decision to split the music into a triple album. "Once they started grouping up is when I truly saw the project. Before that, I loved the recordings… but I couldn't figure out: what is this? I think a listening experience should be condensed; this is what it is – it's meant to be done and then you move to the next one – and I think that's where we came up with the three albums."
The full three-part project has already garnered significant praise from fans and critics alike, with The Wall Street Journal noting "Eric Church and company have stepped up to the challenge of delivering more than a double album's worth of pointed, memorable recordings for tough times, with frankness, hope – and engaging sounds."
"Heart & Soul is a concept record of sorts," adds Rolling Stone in the lead review of the April print magazine, "about the everlasting power of music – the music he makes and the music he loves, which spans the gamut from the Doors to Bobbie Gentry to Elvis and Guns N' Roses."
Indeed, even within the themed grouping of Soul tracks, Church offers a breadth of musical influences and deliveries, with Billboard proclaiming that "each song tells its own full, vivid story with no word or note wasted."
Opener "Rock & Roll Found Me" is a direct reflection of the immensely creative state Church found himself in during the monthlong consistency of producing new song ideas daily. The song's title was inspired by a single line from the "Rocketman" Elton John biopic, which Church watched with his family in an attempted reset between scheduled writes.
"There's a line when he stands up and he says, 'I was however many years old when rock and roll found me,'" Church notes. "As soon as I heard it, I asked my wife to pause the movie and I picked up a guitar that was beside me and wrote 'Rock & Roll Found Me.' That's all it took – I was so in tune with creativity at that point in time that it was all I needed to hear for a song to pour out of me."
From rebellious numbers "Break It Kind Of Guy" and "Bad Mother Trucker" to funky, playful takes on romance in "Look Good And You Know It" and "Where I Wanna Be," as well as bare-boned ballads "Bright Side Girl," "Jenny" and "Lynyrd Skynyrd Jones," each track further reveals the results of Church's uniquely creative writing and recording process.
Fans can hear these new songs and more as Church's longstanding SiriusXM show, Outsiders Radio, takes over Y2Kountry on SiriusXM Channel 61 for the second straight weekend (starting today, April 23, and running through this Sunday, April 25). In addition to sharing brand new songs from Soul, the programming will also feature music from Church's personal playlist as well as live shows recorded during past tours.
Church plans to hit the road for a brand new tour this fall, appropriately titled The Gather Again Tour. As part of what Billboard described as "Church's crusade to get fans vaccinated – and bring concerts back," he has planned a 55-city run of full-capacity arena dates through the U.S. and Canada, kicking off this September in Lexington, Ky. and wrapping in May 2022 at New York City's iconic Madison Square Garden. Church Choir pre-sales begin Tuesday, May 4 with tickets on sale to the general public beginning Friday, May 7. A full list of dates is available HERE.
For more information, visit www.ericchurch.com and follow on Facebook and Twitter @ericchurch and Instagram @ericchurchmusic.
Soul Track List
Lyrics linked HERE, songwriters in parentheses
1. Rock & Roll Found Me (Eric Church, Casey Beathard, Driver Williams)
2. Look Good And You Know It (Eric Church, Jonathan Singleton, Travis Meadows)
3. Bright Side Girl (Eric Church, Jeff Hyde, Scotty Emerick, Clint Daniels)
4. Break It Kind Of Guy (Eric Church, Casey Beathard, Luke Dick)
5. Hell Of A View (Eric Church, Casey Beathard, Monty Criswell)
6. Where I Wanna Be (Eric Church, Casey Beathard, Jeremy Spillman, Ryan Tyndell)
7. Jenny (Eric Church)
8. Bad Mother Trucker (Eric Church, Casey Beathard, Luke Dick, Jeremy Spillman)
9. Lynyrd Skynyrd Jones (Casey Beathard)
About Eric Church
Reigning CMA Entertainer of the Year and 10-time GRAMMY nominee Eric Church has spent the past year-plus releasing new music at a relentless pace; providing a glimpse into the marathon session during which he spent nearly a month writing and recording a song per day – including current Top 10 single "Hell of a View" – while sequestered in rural North Carolina. The resulting project, his critically acclaimed new triple album, Heart & Soul, is available now.
Just as unique as Church's approach to recording and releasing music is his tenacity on the road. During his most recent outing, 2019's Double Down Tour, Church played back-to-back nights of two unique shows in each market sans opening act, giving every city's fans six-plus hours of his iconic music. The tour also featured a massive stop at Nissan Stadium in Nashville, where he broke the venue's concert attendance record with more than 56,000 fans in attendance and became the first artist to sell out the venue with a solo lineup. Church also took to the field at Tampa Bay's Raymond James Stadium on Sunday, February 7 to perform the National Anthem with R&B star Jazmine Sullivan ahead of Super Bowl LV and will return to the road for The Gather Again Tour this fall.
A seven-time ACM Award winner, four-time CMA Award winner, and 10-time GRAMMY nominee, Church has amassed a passionate fanbase around the globe known as the Church Choir as well as a critically acclaimed catalog of music. His previous album, Desperate Man, earned a GRAMMY nomination for Best Country Album (his third nod in the category) and produced his most recent No. 1 hit, "Some Of It." Additional releases include the Platinum-certified Sinners Like Me ("How 'Bout You," "Guys Like Me"), Carolina ("Smoke a Little Smoke," "Love Your Love the Most") and Mr. Misunderstood ("Record Year," "Round Here Buzz"), the Double-Platinum certified The Outsiders ("Like a Wrecking Ball," "Talladega") and the 3x Platinum-certified Chief ("Springsteen," "Drink In My Hand"), as well as 22 Gold, Platinum and multi-Platinum certified singles.
https://nashvilleinsider.tv/wp-content/uploads/2021/04/Eric-Church-156-Credit-Joe-Pugliese__WEB-scaled.jpg
2560
1919
Michael Glynn
https://nashvilleinsider.tv/wp-content/uploads/2018/04/logo-yes.png
Michael Glynn
2021-04-27 18:31:45
2021-05-02 19:09:51
RHYTHM, REBELLION AND RESPECT RATTLE ERIC CHURCH'S SOUL