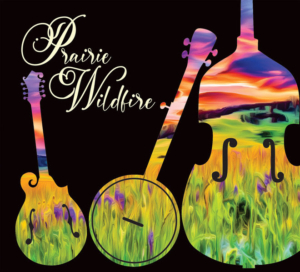 Get ready to be swept away by the mesmerizing sound of Prairie Wildfire as they set the radio waves ablaze with their latest single, "When The Wind Passes By." This talented trio of Wyoming girls brings their unique blend of bluegrass traditions and the untamed spirit of the American West to create a musical experience like no other.
"When The Wind Passes By" showcases Prairie Wildfire's exceptional musicianship and heartfelt storytelling. With their harmonies that soar with both tenderness and intensity, Prairie Wildfire transports listeners to the breathtaking landscapes of their beloved Wyoming.
The trio, comprised of Morgan Blaney, Tessa Taylor, and Sage Palser, seamlessly blend their individual talents to create a sound that is both timeless and refreshingly authentic. Morgan's honey-toned voice, Tessa's energetic banjo, and Sage's rich mandolin picking come together in perfect harmony, embodying the true essence of bluegrass music.
Don't miss the opportunity to experience the sound of Prairie Wildfire and their latest single, "When The Wind Passes By." Tune in to your favorite radio stations to catch this captivating track that embodies the very essence of bluegrass music.