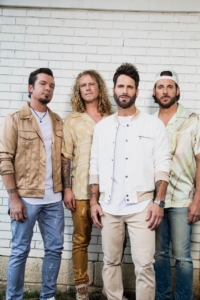 With the first half of 2023 in the books, multi-platinum selling band Parmalee kicks-off the second half of the year as one of radio's most played country groups of the year.
That airplay success is driven by the band's three #1 singles, including its recent "Take My Name," which was Billboard's Country Airplay Song of 2022. Currently they are enjoying the Top 15 and climbing success of their latest single "Girl In Mine," co-written by Parmalee lead singer Matt Thomas.
"I had just gotten my first Jeep CJ, and I'll never forget picking up my girlfriend for the first time," recalls Thomas of the inspiration behind the song, "We were from such a small town. There wasn't much else to do but put the top down, listen to music, and talk about what we wanted to do with our lives. In that moment she was the only girl in the world. We were both young and our lives moved on in different directions. But this song came from that moment, and I'll never forget it."
With more than 1 Billion career streams, the band, featuring brothers Matt and Scott Thomas, cousin Barry Knox and life-long friend Josh McSwain has been passionately pursing their music dreams for more than a decade.
The North Carolina natives have a full slate of touring this summer that includes shows with Grammy Award winning group Train.