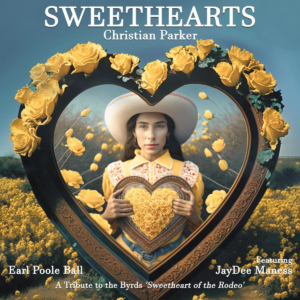 "I dissected each song," says singer and songwriter Christian Parker. "I wanted to do the record my own way and make it authentic and still be true to the original." The record he was taking on? The Byrds' now-legendary country-rocker, Sweethearts of the Rodeo. On August 18th, Parker will release his version, dubbed Sweethearts, featuring his rollicking band and support from pianist Earl Poole Ball and pedal steel from JayDee Maness—both of whom played on the original record back in 1968.
Just as then-new Byrds member Gram Parsons loved the Louvin Brothers, Merle Haggard, and Cindy Walker—and wanted to deliver faithful versions of their songs "The Christian Life," "Life in Prison," and "Blue Canadian Rockies"—so Parker delivers the Byrds' versions in tender renditions that capture the groundbreaking character of the original album. Throughout Sweethearts, Parker's vocals echo the purity of Parsons' efforts to import the clarity of county music into vibrant rock rhythms. In addition to the original eleven songs on Sweethearts of the Rodeo, Parker has included three more classics: "I Still Miss Someone,"  "Satisfied Mind," and "Drugstore Truck Driving Man."
On Tuesday, Parker shared the first single from Sweethearts, the album-opening "You Ain't Goin' Nowhere" with premiere partner The Bluegrass Situation. "I first heard this song by Bob Dylan on an acoustic guitar. But I was hooked when I listened to the opening pedal steel guitar on the Byrds album," says Parker. "This song was in my repertoire for decades, and I felt like I was recording an old friend. Tracer James' interpretation of Lloyd Greens' pedal steel guitar opens Sweethearts up perfectly and having Earl Poole Ball in the studio, who played piano on the original version, was magical for me." Finding room between James' scampering steel licks and Ball's gospel-inflected piano runs, Parker delivers the song's iconic refrain: "Whoo-ee, ride me high / Tomorrow's the day my bride's gonna come." The cascading piano on the outre is Parker's distinctive take on this buoyant song.