Paige King Johnson Releases Mother's Day Tribute Single, "She Holds This House Together" For Her Mom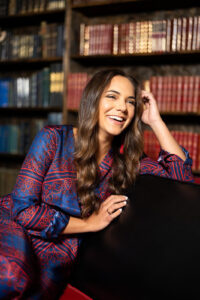 Country music singer/songwriter Paige King Johnson has released a lyric video and music video for her latest single, "She Holds This House Together" written for her mom just in time for Mother's Day. Behind beautiful words, the lyric video features Johnson enjoying a nice North Carolina afternoon reminiscing all that her mother has done for her and how thankful she is for the woman who has 'held her house together.' The music video is a collage of old photographs of Paige and her mother throughout the years. This heartwarming sentiment arrives just in time for Mother's Day, as Paige pays tribute to the strong woman that she has become because of her mother's example. "She Holds This House Together" reminds fans to show their appreciation to their mothers today and every day, and is available to stream and download on all digital services now.
Watch the lyric video premiered on Country Sway HERE.
Watch the Newsmax interview and video premiere HERE.
View the full music video premiered online on Digital Journal HERE.
"Sometimes it takes a while for a song to find its place in the world, and that is very much the case with 'She Holds This House Together'. I wrote this song last June with my co-writer, Mike Astrachan, and we both loved the song the moment it was finished. This release is special to me because this song is very much a tribute to my sweet Momma, but also a tribute to all the other strong and selfless mothers out there that keep their family's world spinning every day," shares Paige.
Aside from dedicating sweet words in homage for all her mother has done for her in "She Holds this house together," Johnson has been busy working on more new music that will be released this summer and has numerous tour dates scheduled in the south throughout the year. She will also be hosting her second annual 'Country Yard Party' music festival in Angier, North Carolina on May 22. The show, with a promise to be even bigger than last year, provides a lively outdoor environment and introduces exciting young North Carolina talent, along with a stellar performance from Johnson herself.
For ticket information, please visit HERE.
"Paige King Johnson's performance and tribute to mothers really encapsulates the true meaning and appreciation we should all have for moms everywhere," Bernard Porter, Owner of PCG Artist Development Records.
Check out & share Paige King Johnson's 'Songs About Momma' Spotify Playlist HERE!
To keep up with everything Paige King Johnson, visit HERE and follow the socials linked below.
https://nashvilleinsider.tv/wp-content/uploads/2021/05/Paige.jpg
1600
1066
Michael Glynn
https://nashvilleinsider.tv/wp-content/uploads/2018/04/logo-yes.png
Michael Glynn
2021-05-07 18:37:30
2021-05-07 18:39:08
Paige King Johnson Releases Mother's Day Tribute Single, "She Holds This House Together" For Her Mom