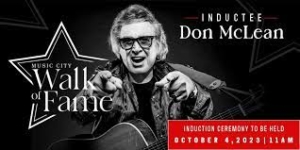 The Music City Walk of Fame has announced four new inductees: Don McLean of "American Pie" fame; three-time GRAMMY Award-winner Darius Rucker; rock and roll guitarist Duane Eddy; and former record-label executive Joe Galante, the Nashville Convention & Visitors Corp announced today. The induction ceremony will take place on Wednesday, October 4 at 11 a.m. at Music City Walk of Fame Park. Members of the public are invited to view the ceremony.
"This exceptional inductee class for the Music City Walk of Fame embodies iconic moments in the history of music – from Darius Rucker's rendition of "Wagon Wheel" to Don McLean's classic "American Pie" to the distinctive twang of Duane Eddy's guitar," said Ken Levitan, Chairman of the NCVC Board of Directors and Founder and Co-President of Vector Management. "Nashville's music industry would not be the dominant force it is today without Joe Galante, who solidified Country as a leading genre in the record industry and who continues to nurture the next generation of music leaders through tech startups and entrepreneur programs."
The induction ceremony will bestow the 101st, 102nd, 103rd, and 104th stars on the Music City Walk of Fame. Inductees are recognized for their significant work of preserving the musical heritage of Nashville and for contributing to the world through song.
"Darius, Don, and Duane have not only given us the gift of their music and inspired new generations of musicians, but they have also given back generously over their career to important causes that matter to all of us," said Cesar Gueikian, President and CEO of Gibson Brands. "Joe has broken boundaries all throughout his career, developed some of the most iconic Country artists of all time, and is a driving force in our community. All of us at Gibson are proud to join the Music City Walk of Fame in honoring Darius, Don, Duane, and Joe."
Professional wrestler Ric Flair will be in attendance to induct Rucker. Connie Valens, the sister of the late Ritchie Valens whose death was immortalized in "American Pie," will present McLean. GRAMMY Award-winner and Music City Walk of Fame member Steve Wariner will induct Eddy. Vince Gill, 22-time Grammy Award winner and member of the Country Music Hall of Fame and Music City Walk of Fame, will induct Galante.
The Music City Walk of Fame was created in 2006 on Nashville's Music Mile, a roughly one-mile stretch that connects downtown to Music Row. Permanent sidewalk medallions with the names of inductees are displayed in a star design.
The Music City Walk of Fame is an official project of Music City Inc., the charitable foundation of the Nashville Convention & Visitors Corp, and is produced with the support of founding sponsor Gibson. Additional sponsors include the City of Nashville and Metro Parks and Recreation. Nominations are open to the public and are accepted in the categories of Artist, Musician, Songwriter, and Producer/Music Industry Executive. Application forms are reviewed by the Music City Walk of Fame anonymous selection committee. For more information about the Music City Walk of Fame, go to visitmusiccity.com/walkoffame.