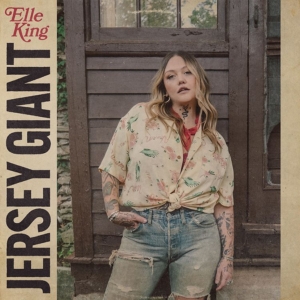 Last year when Tyler Childers' record label asked him what artist he would want to record "Jersey Giant," an old live song getting some fresh attention, he had only one name – Elle King. Featured on her critically acclaimed Come Get Your Wife album released earlier this year, "Jersey Giant" is set to impact multiple radio formats next week including Americana, Triple A and non-commercial radio, and is available to all formats via Play MPE. Co-produced by King, the song is already generating more than 500,000 streams per week with more than 20 million global streams since release.
"I was so humbled when Tyler asked me to record the song," said King. "And then earlier this year he surprised my fans and joined me on stage in Lexington, KY. That was a badass moment for me personally."
Since she burst onto the music scene in 2014 with her breakout hit "Ex's & Oh's," King has topped the Billboard charts in four genres, most recently with the smash hit "Drunk (And I Don't Want To Go Home)" with Miranda Lambert.
Her genre-melding songs have always been at the center of her music. The Guardian said in a 2015 review, that King is "steeped in every genre of vintage Americana – sassy rock'n'roll, vampy R&B, country sadness and a little blues." Of her recent album, People Magazine noted, "…The 'Ex's & Oh's' singer – who's always been a little bit country, a little bit rock and roll – planted herself in Nashville. But she hasn't lost her edge."
When King's version of "Jersey Giant" dropped late last year, Whiskey Riff said, "In terms of the production, it sounds great, with Elle taking over lead and background vocals, in addition to playing some acoustic guitar. The great Charlie Worsham also lends his voice for backing vocals, in addition to playing acoustic guitar, mandolin and banjo." Saving Country Music added, "But the genius of Elle King's version of 'Jersey Giant' is the reservation she displays in her performance. Sufficed to say, this thing is pretty great."
King's A-Freakin-Men Tour, Presented by Slow & Low wrapped earlier this year to sold-out crowds and rave reviews. She has a jam-packed summer playing festivals, amphitheaters and arenas across the country performing with artists including Eric Church, Melissa Ethridge, Jelly Roll and Dierks Bentley. She joins Childers on his 2023 Send in the Hounds Tour at Radio City Music Hall in New York City on August 2nd and 3rd.