Country Pop Singer-Songwriter Levi Hummon Teams With Walker Hayes On New Track "Paying For It"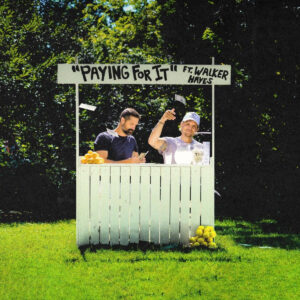 In 
Levi Hummon's
 newly-released track, "Paying For It," this singer-songwriter melds a bluesy, pop-country groove with lyrics shot through with realism, conveying that oftentimes the aftermath of a fizzled romance can be as costly as a relationship itself.
Joining Hummon on the new single is "Fancy Like" hitmaker 
Walker Hayes
 (courtesy of Monument Records), also a co-writer on the track alongside Hummon and writer/producer Eric Arjes.
"I'm so excited to partner up with Walker on a song," Hummon says. "I've been a fan of his for a long time and this is actually the first song we ever wrote together. I brought in the title and he really did his Walker thing to it. I think this song is really special and I'm excited for the world to hear it. Also, big shout out to my producer Eric Arjes for killin' it on this one."
Nashville native and Reservoir-signed writer Hummon was raised in Music City's songwriting community, and like many gifted songwriters, he's attuned to the everyday details that make for a solid song idea. Though "Paying For It" includes withering lines such as "feels like we got divorced and I had a real cheap lawyer," the song actually finds its origin in a comment from Hummon's girlfriend.
"The idea behind the song is actually based on a funny conversation with my girlfriend," Hummon shares. "She chipped her tooth the day I was heading to my co-write and said to 'go write a song that can pay for this'… and the title paying for it hit me. I obviously turned it into a different story, but that title is definitely because of her."
"Paying For It" releases today via F2 Entertainment/The Orchard and is available on all digital streaming platforms. The song follows the Spring release of Hummon's two-part 36/86 project.
About Levi Hummon
Levi Hummon made his imprint on the Nashville community long before he realized the extent of his craft. Born and raised in Music City, Hummon was surrounded by music greats. A product of his environment, he was named one of Entertainment Weekly's 5 Artists Breaking Now and Rolling Stone Country's 'One to Watch.' According to Taste of Country Hummon's latest EP, Patient, "proves his singer-songwriter mark will be distinct" and CMT praises that the songs feature "lyrical content chock full of vulnerability and heart." Hummon spent the end of 2019 on tour with acts such as Tim McGraw, Keith Urban and Lady Antebellum. With recent features in Billboard and Forbes and over 100 million on-demand streams, Hummon is excited to continue releasing music.
About Walker Hayes
Monument Records recording artist, Walker Hayes, is a singer/songwriter originally from Mobile, Alabama. His recent EP Country Stuff features viral hit "Fancy Like" which sat at the top of the iTunes country songs chart for three weeks after peaking at #1 all genre after release. The song was the top selling country song on the Billboard Country Digital Song Sales chart for three weeks after release, and top 5 on Billboard's Hot Country Songs chart.
Hayes' debut album, boom, co-produced by multi-GRAMMY Award winning producer and songwriter Shane McAnally, includes the RIAA certified, Double-Platinum, Top 10 hit "You Broke Up With Me," and his music, including singles "90s Country" and "Don't Let Her," has gone on to be streamed over a half billion times. As the Washington Post stated, "Hayes has broken into the mainstream by sounding different. He has performed to national audiences on Good Morning America and The Today Show and joined the likes of Kelsea Ballerini, Dan + Shay, Thomas Rhett and Old Dominion on tour.
https://nashvilleinsider.tv/wp-content/uploads/2021/07/Humman_Hayes.jpg
1200
1200
Michael Glynn
https://nashvilleinsider.tv/wp-content/uploads/2018/04/logo-yes.png
Michael Glynn
2021-07-18 15:18:57
2021-07-18 15:18:57
Country Pop Singer-Songwriter Levi Hummon Teams With Walker Hayes On New Track "Paying For It"