Only Three Weeks Away Until Nashville's Premier Racing and Music Event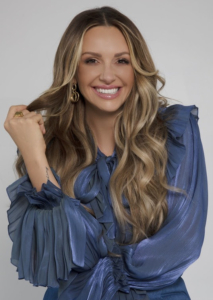 GRAMMY, CMA, and ACM-Award-winning singer, songwriter Carly Pearce is slated to sing the National Anthem for the The Big Machine Music City Grand Prix NTT INDYCAR Series race on Sunday, August 6th with a start time at 11:30am CST on NBC. Pearce will perform her stunning rendition of the National Anthem LIVE at 11:11am CST prior to the race.
The announcement comes at an exciting time for Pearce who recently released her acclaimed new single "We Don't Fight Anymore" featuring Chris Stapleton. With four number ones and dozens of accolades already under her belt, Pearce is showing no signs of slowing down as her latest release has received high praise from fans and critics alike.
The Big Machine Music City Grand Prix, an action-packed three-day motorsports festival weekend, features the NTT INDYCAR SERIES, along with INDY NXT, GT America, GR Cup, the Big Machine Spiked Cooler Trans Am TA2 Series, and Stadium SUPER Trucks along with some of the biggest names in entertainment.
Now just three weeks away from the race, fans can plan ahead and get their tickets while they last. All single-day tickets include free admission to the concert on the coinciding day.
Friday, August 4: Wesley Mortgage Freedom Friday offers $41 for general admission and $52 for reserved grandstand. In addition to a full day of on-track racing, Friday activities will feature the Wesley Mortgage Freedom Friday Tribute Concert with an incredible lineup to include headliners Brian Kelley (Florida-Georgia Line), Chris Janson, Vince Neil (Motley Crue), Gavin DeGraw, and other special guests along with Sixwire on the ZYN Stage.
Saturday, August 5: An action-packed day of racing, including NTT INDYCAR SERIES qualifying, a stacked lineup of live performances on the iHeart Country Stage, and a Saturday evening concert by music superstar Flo Rida on the ZYN Stage will offer something for everyone. In addition, new for 2023, Family Fun Day and Saturday Night Racing. showcasing the new SRO GR Cup and the returning SRO GT America Series, featuring supercar manufacturers Lamborghini, Ferrari, Aston Martin, Porsche, and more. Single-day general admission is $71 and reserved grandstands are $92.
Families can also purchase a Family Four-Pack of tickets for $129 that includes two (2) general admission adult tickets and two (2) youth tickets – must be 14 or under) for Family Fun Day on Saturday, August 5th with access to BJ's Wholesale Club Family Fun Zone. Additional youth tickets can be added to the package at $32.25 per ticket.
BJ's Wholesale Club Family Fun Zone will be a secured area that includes Inflatables for the kids, mini-Grand Prix racing, interactive games, crafts, a shade tent, picnic tables, a video board for viewing the race, convenient restrooms, and kid-friendly food choices at family-friendly pricing. The Family Fun Zone will be available to ticket holders throughout the duration of the race weekend.
Sunday, August 6: The Big Machine Music City Grand Prix NTT INDYCAR SERIES race, the main event of the weekend, will have general admission tickets available at $91 and reserved grandstands at $122. Sunday's activities will also include the popular Stadium SUPER Trucks, GT America, and GR Cup on track, plus The Fish Nashville Stage including Jay DeMarcus (formerly of Rascal Flatts), Jason Crabb, Consumed By Fire, Cade Thompson and Iveth Luna at 9:00 a.m. CST. Then enjoy a post-race concert with fan favorite Tim Dugger immediately after the INDYCAR race.
Three-day tickets and premium packages remain on sale and provide the greatest value and access to all on-track activities featuring the NTT INDYCAR SERIES and concerts each night.
ABOUT THE BIG MACHINE MUSIC CITY GRAND PRIX
The Big Machine Music City Grand Prix is a three-day premier festival of racing and music from Aug. 4-6 featuring the NTT INDYCAR SERIES, Indy NXT, GT America, GR Cup, the Big Machine Spiked Cooler Trans Am TA2 Series, and Stadium SUPER Trucks.
Ticket Packages, Clubs, and Suites are now available to watch the best INDYCAR drivers race for the Big Machine Music City Cup. Fans can choose their optimal grandstand seat to watch as the drivers compete in the 80-lap, 2.1-mile, 11-turn course which races around Nissan Stadium, over the Cumberland River, and curves around downtown Nashville. The adrenaline-fueled event will feature live music each day and culminate with a headline concert on Friday and Saturday nights.