Headlining Solo Acoustic Tour in Partnership with DTour,
Continues Support of Independent Music Venues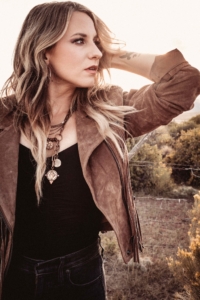 Monument Records' powerhouse vocalist Caitlyn Smith took to social media this morning to announce her 2023 The Great Pretender Solo Tour, an unplugged, unaccompanied, unique arrangement in celebration of her new album High & Low (Release Date: April 14, 2023).
Kicking off April 3 in Austin, Texas, and in partnership with DTour, the trek includes 15 independent venues across the country celebrating the stories behind the songs.
"I wanted to bring my fans into the room with me to where these songs began. Feelings. Stories. One voice and one instrument. Songs in their purest form," says the Critics' Choice Award winner. "Sharing these wonderfully intimate rooms with people allows me to connect and be more vulnerable than I have been able to be in years. Hopefully this experience will mean as much to my fans as I know it's going to mean to me."
Fender's 'Next Artist' Alex Hall joins Smith as direct tour support. General on sale begins this Friday, March 10 at 10 a.m. local time. For tickets and more information visit CaitlynSmith.com.
DTOUR is a network of independent venues and promoters offering national artists locally owned, unique venue experiences across multiple markets. The partnership follows a history of supporting independent venues for Smith. In 2021 she released a video depicting the emotional and tumultuous journey of an independent venue owner facing closure. Smith, along with GRAMMY-nominated Old Dominion, partnered on the music video for her powerful song, "I Can't," to not only chronicle the desperate conditions many beloved live music venues faced due to the COVID-19 pandemic, but to encourage viewers to support the National Independent Venue Association by visiting togetherwecan.caitlynsmith.com to donate to NIVA's Emergency Relief Fund.
The Pollstar "Hotstar" headlined her High & Low Tour in 2022. Prior to that headlining run across the U.S. and UK, she spent the last year opening for George Strait, Reba, Little Big Town and Old Dominion where she played stadiums and arenas across the U.S. In March 2022, she made her debut appearance at C2C: Country to Country and left Lyric Magazine declaring she "was THE artist of the festival."
Last year, Smith released High, the first half of a record that the critically acclaimed singer/songwriter self-produced. April 14 she will release the completion of that project, adding six new songs to make her full record, High & Low, due April 14. The additional tracks balance 2022's critically-acclaimed High, celebrated by NPR as "her most fully realized project yet," with High & Low capturing the full picture of who Smith is as an artist and as a creator – where embracing the yin and yang simply makes you more human.