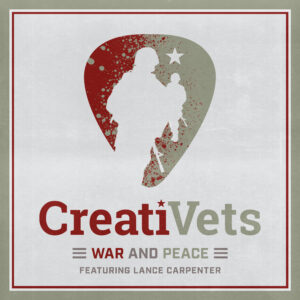 Big Machine Label Group and CreatiVets announce today the release of "War And Peace" featuring Lance Carpenter. Written by Jay Thurin, Richard Casper, Chris Ferrara, Lance Carpenter and Brian Walsh, the song's lyrics express a deep love and appreciation for veterans' partners, who face the challenges of returning home from war alongside them:
I'm your war it's plain to see
Through it all I don't know how you stay with me
You could go you could leave but you carry me
I'm your war
You're my peace
"I'm so honored to be involved with CreatiVets and proud is an understatement to see how it's evolved and grown over the years and the massive positive impact it's made and continues to make for veterans and their families," says Carpenter. "I never served in the military so I'm humbled at the opportunity to use my talent as a singer/songwriter to, in a small way, serve those who have served for me."
This month also saw the release of "
Old Glory
" featuring Chris Ferrara in alignment with the 4
th
 of July. Written by Chris Hamilton, Richard Casper, Chris Ferrara, Joe Bachman, the upbeat song is the perfect addition to your summer playlist.
About Lance Carpenter
Singer/Songwriter Lance Carpenter pens hits of contemporary Country radio, while still staying true to his traditional background. Growing up on a farm in Ozark, Arkansas, Lance moved to Nashville in 2011 and within 18 months, he signed his first publishing deal and secured 2 major cuts. Lance achieved his first No. 1 hit by co-writing Kelsea Ballerini's single "Love Me Like You Mean It." He released his self-titled debut album LANCE CARPENTER in 2013 with follow up albums HAY DAYS in 2015 and MUSTANG in 2018. Lance has performed with Toby Keith, Luke Bryan, Justin Moore, Randy Rogers Band and more as well as cuts on albums by Dylan Scott, Tyler Farr and Richie McDonald. He continues writing music that inspires, memorializes and captures his own zest for life while remaining true to his laid-back country boy persona. In addition, Lance continues to astound with the work ethic and humbleness that determined his early successes.
About
CreatiVets
CreatiVets is a veterans organization dedicated to helping wounded veterans heal through the arts and music. The organization was inspired by executive director Richard Casper, who discovered firsthand just how transformative the arts can be to veterans after military service.Casper served for four years as a Marine, including a 2006 tour in Iraq where he watched his close friend and comrade, Luke Yepsen, fall to enemy snipers. There he also sustained four IED blasts in the span of just four months, leaving him with a major left traumatic brain injury and significant PTS, depression and anxiety upon returning home. His experiences in art classes at Heartland Community College, and later the Chicago Institute for the Arts, revealed to him the power of art and music to transform the "warrior brain." Casper's vision for CreatiVets was to give veterans a way to talk about their experiences in combat.CreatiVets was founded in 2013. The organization hosts a number of free songwriting and visual arts programs through its sites in Dallas, Chicago, Nashville and partnerships with the Grand Ole Opry and the Chicago Art Institute. Major artists including Brantley Gilbert, Craig Morgan and Love and Theft, as well as brands including Amazon and The Nashville Sign, have helped CreatiVets spread its message to Nashville and beyond. Amazon partnered with CreatiVets and Big Machine Label Group last July to release the album 
VETERAN SONGS
, which can be accessed on any Amazon Alexa by speaking the command, "Alexa, play music by veterans."
About Big Machine Label Group
Led by Founder, President and CEO Scott Borchetta, Big Machine Label Group encompasses Big Machine Records, The Valory Music Co., BMLG Records, Big Machine/John Varvatos Records and publishing company Big Machine Music as well as its own digital radio station, Big Machine Radio. BMLG artists include superstars Tim McGraw, Florida Georgia Line, Sheryl Crow, Thomas Rhett,  Rascal Flatts, Brantley Gilbert, Lady A and Sugarland; chart-topping acts Justin Moore, Eli Young Band, Brett Young, Midland, Carly Pearce, Riley Green, Aaron Lewis, Badflower and "The Voice" winner Danielle Bradbery. BMLG artists have received multiple GRAMMY, CMA, ACM, AMA, CMT, Teen Choice, MTV, Billboard, People's Choice and Brit Awards. Big Machine is the first-ever American label to align with terrestrial radio for performance royalty rights for its artists and is an industry leader in fighting for artist, songwriter, publisher and record company rights. Big Machine Label Group created the Music Has Value Fund to provide assistance to nonprofit organizations that make music, aspire to make music, and access and appreciate music. Visit BigMachineLabelGroup.com for more information.
https://nashvilleinsider.tv/wp-content/uploads/2021/07/Creativets-scaled.jpg
2560
2560
Michael Glynn
https://nashvilleinsider.tv/wp-content/uploads/2018/04/logo-yes.png
Michael Glynn
2021-07-23 01:17:20
2021-07-23 01:42:54
BIG MACHINE LABEL GROUP + CREATIVETS RELEASE "WAR AND PEACE" FEATURING LANCE CARPENTER