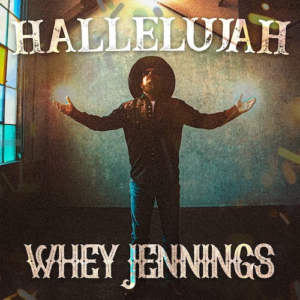 Country singer-songwriter Whey Jennings is set to release a new holiday inspired song, a remake of Leonard Cohen's classic Folk Gospel Rocker, "Hallelujah" this Friday, November 17 by Dirt Rock Empire. Jennings' rich baritone vocals and Southern allure helps solidify his own stamp on Cohen's hit song, which has also been covered by the likes of Jeff Buckley, Willie Nelson and Brandi Carlile. On the track Jennings soulfully projects his own personal praise by giving to God for his newfound life of sobriety, while celebrating the upcoming Holiday season and the birth of Jesus Christ.
"Hallelujah is a song that saved my life and it continues to save my life everyday," Jennings said. "It has not only brought me closer to God, but it has also allowed me to bring others closer to God. I perform this song night after night at my shows. Hallelujah and Praise the Lord!"
Jennings will also roll out his version of the iconic Gospel standard "Amazing Grace" just after the new year, which is due out on January 12 by Dirt Rock Empire. Both songs were recorded and produced in Nashville by Music Producer and composer Gary Carter at GC Music Studio Tennessee.
About Whey Jennings:
Country singer-songwriter Whey Jennings was born into one of country music's most iconic family names, as he first emerged in 2012 as another naturally gifted singer from the Jennings tribe. With large boots to fill, the young Dirt Rock Empire recording artist with a booming baritone voice as big as Texas, finds himself with a few expectations to live up to. Seeking to establish his own musical legacy as one of the few remaining torch-bearing country traditionalists out there, Whey can instantly take his fans back to a time and sound his Grandfather Waylon and Grandmother Jessi gave birth to in the 70's. Whey has two studio recorded EP releases under his belt, 2020's Gypsy Soul and 2022's If It Wasn't for The Sinnin', both which revealed musical stories of how Whey was coming to terms with a partying lifestyle, knowing he needed to make a change. On his third EP, Just Before The Dawn, released on September 22, 2023, Whey shares more stories about his struggles with addiction, finding sobriety, and redemption through faith, family and friends. Interjecting his own modern-day approach to songwriting and storytelling, while staying rough around the edges with an unpolished grit and honest demeanor, Whey's musical roots run as deep as his family's name would imply. Whey Jennings has only scratched the surface of what is still yet to come. As they say, what goes around comes around.