WANDA JACKSON GIVES HER ENCORE AUGUST 20
Rockabilly Queen Enlists Fellow Rock & Roll Hall of Famers Joan Jett and Kenny Laguna for Final Project, Featuring Elle King and Angaleena Presley
1962's "It Keeps Right On A Hurtin'" Teases Fans Today, But There's Much More Ahead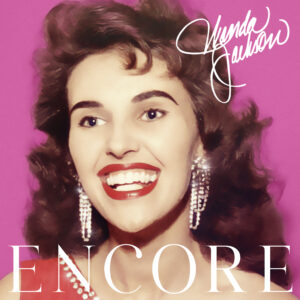 The most core-shaking female to ever hit a stage returns with a vengeance! WANDA JACKSON, Rock & Roll, International Gospel and Rockabilly Hall of Famer, teams with fellow Rock & Roll Hall of Famers Joan Jett and Kenny Laguna to conceptualize ENCORE (out August 20 via Big Machine Records/Blackheart Records). ENCORE is rooted in the belief that the pure Rock & Roll that Wanda pioneered, has lived in Jett's modern version of agency, independence and audacious self-expression that has been taboo for women in music. Jackson's 32nd album is a final chapter amplifying a career that's ignited others too, from the Cramps to Amy Winehouse, Adele to Jack White, who produced her 2009 critic's favorite THE PARTY AIN'T OVER.
"Right around the time I retired from performing and what I thought was the end of my career, I found myself back to writing songs with some of the great writers in Nashville. The songs you hear are truly my life story. This is the first time I have ever inserted so much of my personal life into my music. You'll get a picture of my early life and have a peak into the closeness that my late husband Wendell and I had in our life together. I'm happy to share this with all of you. Your constant love and support has seen me through the ups and downs of my 64-year career. I love you all and God bless you," shared Jackson.
Marked by Jackson's incandescent swagger and effervescence, ENCORE is an in-your-face sonic experience that walks listeners through the Rockabilly, Country and even Punk colors of one of music's most thrilling vocalists. That growl in her voice and full-tilt femmepower in her songs, it's no wonder throw down rocker/writers Elle King and Angaleena Presley join Jett to ramp up the bravado and the fun.
Recorded just before announcing her retirement, Jackson's signature tease and straight up no-nonsense delivers a resounding thump on the choogling taunt "Big Baby." She's saucy and snarling on the jaunty "Can't Keep A Good Girl Down" featuring Presley and Candi Carpenter and wide open on Jett's garage grunge come on "You Drive Me Wild," as well offering clear-eyed tenderness on the classic balladry on ENCORE's closing "That's What Love Is."
"Real, authentic rock and roll is something you have to have inside. It can't be taught, it can't be faked. Wanda Jackson has it. Joan Jett has it. ENCORE has it. It is rare," said Laguna.
The bodacious vocalist known for "Hot Dog! That Made Him Mad;" "Mean, Mean Man;" "Fujiyama Mama" and "Let's Have A Party" writes half of ENCORE's songs, with a coterie of writers including triple Grammy Awards winner Lori McKenna, ACM/CMA/Grammy nominees Will Hoge and Luke Laird, Presley, plus Bluegrass queen Sonia Leigh. Timeless, classic, forward-tilting, Jackson is still teaching the kids how it's done.
To give fans a taste of the set, the vintage Country of Johnny Tillotson's 1962 Rhythm & Blues smash "It Keeps Right On A Hurtin'," arrives today, June 25. The sweeping stroll embodies the Hargus "Pig" Robbins Country that captivated jukeboxes throughout the '60s; most notably re-recorded by Elvis Presley on his 1969 FROM ELVIS IN MEMPHIS.
Whether the feral Funk "Treat Me Like A Lady" with its time changes – featuring both Jackson's grit and soft as silk approaches – or the giddyup Rockabilly of "Two Shots" – matching her with King and Jett – the diminutive dark-haired vixen remains every bit as sultry and in charge as ever. Hearing women tell it not just like it is, but how it's going to be, has defined Jackson. For seven decades she has made fringe sing, bodies swing and the mind do untold things.
Pre-order ENCORE: https://WandaJackson.lnk.to/EncorePR
Listen/Stream "It Keeps Right On A Hurtin'": https://WandaJackson.lnk.to/IKROAHPR
https://nashvilleinsider.tv/wp-content/uploads/2021/07/WandaJackson.jpg
1000
1500
Michael Glynn
https://nashvilleinsider.tv/wp-content/uploads/2018/04/logo-yes.png
Michael Glynn
2021-07-02 22:17:06
2021-07-03 18:19:53
WANDA JACKSON GIVES HER ENCORE AUGUST 20