VETERAN MUSIC INDUSTRY RADIO PROMOTER AND MANAGER, DOC GONZALES, PASSES AWAY
Music Industry and Artists Reflect on Special Memories and Moments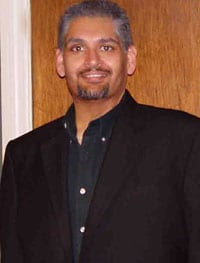 Artist manager and promotion veteran Doc Gonzales, born November 17, 1962, died suddenly on Friday, April 15 at his home in Bowling Green, KY.  As the sole living member of his family, a Celebration of Life is set to be organized in the near future for friends and industry to reflect on his accomplishments and his passion for his work.
Gonzales owned and operated Triple Crown Management, which signed country trio Flat River Band last month. Past clients included Lonestar, Trick Pony, Steve Holy, Billy Dean, Heartland, Little Texas, Dallas Remington, Donovan Chapman along with many more.
He started Triple Crown Promotions with Jim Dorman in 2012. Prior to starting Triple Crown, Gonzales also served as Director of Promotion, SE/SW at Nine North Records and spent 16 years at Graham Management Company.
Gonzales had more than 30 years experience in the music industry working in promotion, marketing, management and artist branding.
His proudest achievement was making history by being the first management company to chart its own artist and break them at radio with four #1 charting acts. 
"This has just been such a devastating loss for me and to many others. We met Doc after we signed with Herbert Graham and Graham Artist Management and he played a critical role in our success and we had so many great times touring the country together and he was with us every step of the way. The years only brought us closer and I'm honored to have been his business partner and friend. I'm so glad we got to experience one last trip together to Vegas for the recent Academy of Country Music Awards and I will always cherish our time together. He was a gentle soul and a loyal friend and leaves a void that cannot be filled. He will be missed."–Craig Anderson
"Doc was one of a kind… he was more than a manager and a radio promoter, he was like family!"–Chad, Andy and Dennijo Sitze, Flat River Band
"I am grief-stricken to hear of the loss of my long-time friend Doc Gonzales. Doc was on the road with us in the early years of Trick Pony and we remained friends through time. Whenever I would run into him, he had a big bear hug and nothing but kindness to share. He will forever be remembered as the big guy with a loving smile, a great sense of humor, and a passion for music, his family, and dear ones. He now proves, apparently, only the good die young! Way too young. My sincere condolences to his friends and family." –Heidi Newfield
"Doc was the kinda man that put himself second and made sure everyone around him was having a good time and laughing no matter what was on his plate. As a Matter of fact, the last time we talked was Tuesday and he spent the majority of the phone call making me laugh and propping me up. Doc had twice the heart of anyone I've ever met. I will miss him dearly, The last phone call he spent most of the time telling me how great I was doing and how proud he was of me. If I'd only known that was the last time I'd talk to him."–Ira Dean
"Doc was a hard-working, dedicated professional. My condolences to his family and friends."–Larry Pareigis, President Nine North Records Label Group
"Doc was one of the good guys always doing for others wanting nothing in return always had a smile on his face and could always put a smile on your face with his sense of humor l always loved working with him he most certainly left his mark on this world Rest In Peace my friend."–Richie McDonald
"Doc Gonzales and I walked the same roads from my early club days in Little Texas to the highway that leads from Texas to Nashville. He was always a hard worker and a good guy. From bing a DJ when I first met him at the Crystal Chandelier club in 1990 to radio and management in Nashville in the 2000's, Doc had drive and passion at all times. I am sad to hear about his passing. Rest easy my friend."–Tim Rushlow
"I've known Doc Gonzales since 2003 when I signed with Curb Records and witnessed first hand his passion for artists and the music industry. Doc represented my latest single to country radio with great enthusiasm, and it's a tragedy to hear of his passing. I am sure that anyone who's ever worked with Doc is feeling the same sadness with losing such a sincere friend. Doc had a great heart and soul. Rest In Peace brother Doc."–Donovan Chapman
"My family and I were so sad to hear about Doc's passing. Doc joined my team in 2020 and we instantly became friends. I'm definitely going to miss our long phone calls. I'll never forget the way he believed in me and the champion he was for my music. He will be greatly missed."–Dallas Remington
"I had the chance to work with Doc on Donovan's latest Brotherhood album. He approached this project with all he had. After knowing me for a short while he took me under his wing and opened his network to me. Doc will be missed by all. Rest In Peace buddy."–Matt Payne, Founder, Inner Circle Solutions, LLC
https://nashvilleinsider.tv/wp-content/uploads/2018/04/logo-yes.png
0
0
Michael Glynn
https://nashvilleinsider.tv/wp-content/uploads/2018/04/logo-yes.png
Michael Glynn
2022-04-23 16:52:43
2022-04-23 16:54:11
VETERAN MUSIC INDUSTRY RADIO PROMOTER AND MANAGER, DOC GONZALES, PASSES AWAY