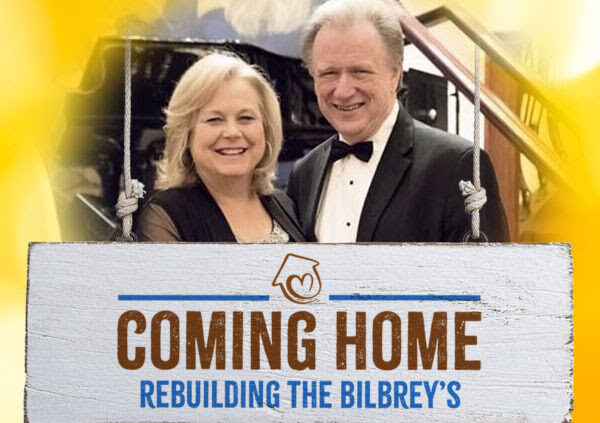 The Country Music Community United at 'Coming Home: Rebuilding The Bilbreys'
Proceeds From Livestream To Assist Larry's Country Diner / Huckabee Announcer and Tennessee Radio Hall of Famer
Keith Bilbrey's Family Rebuild From Devastating House Fire
To make a donation, visit gofundme.com/f/bilbreyrebuild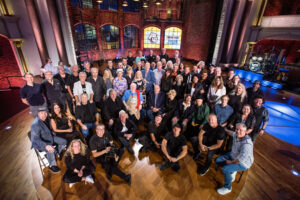 The country music community came together for a wonderful night of music, stories, laughter, and tears in support of famed host and radio personality, Keith Bilbrey during 'Coming Home: Rebuilding the Bilbreys'. Bilbrey and his wife, Emy Joe lost their home on June 22 after a devastating house fire. The event was live-streamed on countryroadtv.com from Trinity Broadcasting Network's Huckabee Theater. All proceeds raised will be used in the rebuilding of their beloved home. 'Coming Home: Rebuilding the Bilbreys' was made possible by Country Road TV, Huckabee, Larry's Country Diner, Gus Arrendale, and Springer Mountain Farms Fresh Chicken. To make a donation, please visit HERE.
To watch 'Coming Home: Rebuilding the Bilbreys' visit countryroadtv.com! This will be available for viewing through July 18 until 6 pm CT.
"This is the most outpouring of love I have ever seen for anybody in my life," shares Gus Arrendale, President of Springer Mountain Farms. "The country music family all came together for Keith and Emy Joe to prove we are not being broken. I am so glad to be a part of this night and to help them because they deserve it."
Governor Mike Huckabee and Larry's Country Diner's Larry Black hosted the event. Country music artists and industry peers who participated include The Bellamy Brothers, Bill Anderson, Charlie McCoy, Chonda Pierce, Craig Morgan, Darin & Brooke Aldridge, Deborah Allen, Devon O'Day, Doyle Dykes, Exile, Larry, Steve & Rudy: The Gatlin Brothers, Gene Watson, Gus Arrendale, The Isaacs, Jimmy Fortune, Janie Fricke, Jeannie Seely, John Berry, Kelly Lang, Lacy J. Dalton, Lee Greenwood, Lorrie Morgan, The Malpass Brothers, Mark Wills, Marty Stuart, Moe Bandy, Nadine (Larry's Country Diner), Nan Kelley, The Oak Ridge Boys' Duane Allen and Richard Sterban, Rhonda Vincent, T. Graham Brown, Teea Goans, and T.G. Sheppard.
"Keith and Emy Joe Bilbrey have lots of friends that we certainly saw here at this wonderful tribute, where so many of the luminaries of the Nashville entertainment scene came in person to show their support," shares Governor Mike Huckabee. "Many others who couldn't be here offered contributions in other ways to a couple who lost everything in a horrific house fire. Everyone wants to make sure that Keith and Emy Joe not only know that they are loved, but will rebuild their home and lives with the help of the country music community."
"You talk about a fun day and a fun night," shares Larry Black. "What a blessing to be able to give back to somebody we respect. Keith and Emy Joe, Thank you!"
About Keith Bilbrey:
Keith Bilbrey is the announcer for Trinity Broadcast Network's Huckabee and RFD-TV's Larry's Country Diner. He is a member of the Tennessee Radio Hall of Fame and a former radio personality on WSM and world-famous Grand Ole Opry, where he also hosted TNN's Grand Ole Opry Live. Born in Cookeville, Tennessee, Bilbrey went to work at WHUB at the age of 16 and remained there for 6 years. He then began working at WSM as a substitute disc jockey and worked his way to full time, where he eventually became one of the most recognizable voices in country music broadcasting.
https://nashvilleinsider.tv/wp-content/uploads/2021/07/Bilbrey_4.jpg
472
600
Michael Glynn
https://nashvilleinsider.tv/wp-content/uploads/2018/04/logo-yes.png
Michael Glynn
2021-07-17 18:53:18
2021-07-17 19:03:09
The Country Music Community United at 'Coming Home: Rebuilding The Bilbreys'