'Ricky Skaggs and Kentucky Thunder Christmas with Special Guests'
 to Debut this December with Nine Holiday Concerts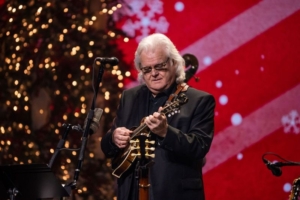 Fifteen-time GRAMMY® winner and Country Music Hall of Fame member Ricky Skaggs is getting in the holiday spirit with the announcement of his 2023 holiday tour, titled Ricky Skaggs and Kentucky Thunder Christmas with Special Guests. Skaggs and his band, Kentucky Thunder, hit the road this December with nine holiday shows scheduled to take place in the weeks leading up to Christmas. Skaggs' upcoming holiday trek marks his first Christmas tour in seven years.
Skaggs and Kentucky Thunder will perform in Cincinnati, OH; Nashville, TN; Charleston, SC; Atlanta, GA; Birmingham, AL; Knoxville, TN; Johnson City, TN; Charleston, SC and Augusta, GA.
The show will feature songs both old and new as Skaggs and his band perform their own blend of harmony.
"Everybody loves Christmas," notes Skaggs. "It's the time of year when we think about others and not ourselves. We love singing songs about the greatest birth in history, Jesus Christ. We will be performing some of the old standards we've all grown up with, but we will also have some instrumentals and songs that you might not be familiar with."
Concertgoers can expect to hear bluegrass tune "Christmas Time's A Comin,'" along with a rendition of "New Star Shining," a hit song for Skaggs and James Taylor. Beloved classic songs "Silent Night," "Deck the Halls," and "Let it Snow" are part of the show, along with many other special Christmas melodies. Included in this seasonal show are sing-a-longs, rounding out an exclusive assortment of holiday jewels.
"All in all, it will be a great show for the whole family," Skaggs adds. "Get your tickets now and bring someone with you that might not be able to afford a ticket this time of year. You'll feel great and they will have a fun time too."
Ricky Skaggs and Kentucky Thunder Christmas with Special Guests Tour Dates:
Dec. 7 – Cincinnati, OH – Memorial Hall OTR
Dec. 8 – Chattanooga, OH – Robert Kirk Walker Theatre
Dec. 9 – Birmingham, AL – The Lyric Theatre
Dec. 10 – Nashville, TN – Ryman Auditorium
Dec. 13 – Johnson City, TN – ETSU Martin Center for the Arts
Dec. 14 – Charleston, SC – The Riviera Theater
Dec. 15 – Augusta, GA – Imperial Theatre
Dec. 16 – Knoxville, TN – Tennessee Theatre
Dec. 17 – Atlanta, GA – The Eastern