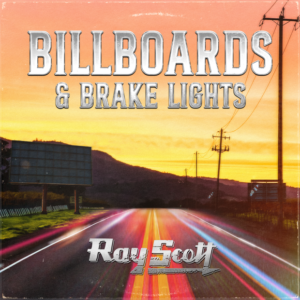 Ray Scott, the independent country artist with "a fathoms-deep singing voice and wicked songwriting wit" (Rolling Stone), today delivers his deeply personal, introspective 11th studio album, Billboards & Brake Lights, available now at DSPs.
"This record has been an exercise in therapy for me. Shortly after beginning the recording process, I lost both of my parents, three weeks apart," says Scott, who co-wrote Clay Walker's 2003 hit "A Few Questions" and Randy Travis' "Pray for the Fish" before releasing his 2005 debut album, My Kind of Music.
"It was extremely tough, and I wanted to honor them — not only with songs ABOUT them, but also some I knew they loved. The result is some of my most inspired work yet."
Produced by Jim "Moose" Brown, Billboards & Brake Lights features a litany of musical giants, including five-time CMA Musician of the Year Jenee Fleenor on fiddle and mandolin, and Musicians Hall of Fame member (and 14-time ACM Drummer of the Year recipient) Eddie Bayers, along with Scott's "painstakingly crafted, mining lyrics and stories that match his top-shelf vocals" (Billboard).
"The weight of my world at the time forced me to lighten things up for a bit, hence the release of [March 2023 satirical album] Wrong Songs," he says. "In the meantime, I felt like Billboards & Brake Lights, already a much more serious toned project, just wasn't done. I needed time."
Known for delivering "the kind of country that reaches inside your heart and gives it a two fisted squeeze" (American Songwriter), Billboards & Brake Lights easily exceeds expectations. Scott and "Moose" capped the album with three new tracks just a few months ago — one of which he wrote the morning of his father's funeral.
"I wrote 'I'll See You Again' the morning of, and sang it at my father's funeral for him and my mother," Scott shares. "This record covers true love, loss and pain. And it takes me back home. One more stage of life, set to three or four chords and the truth."
Facing deep, disorienting loss prompted Scott to reflect on the enduring love in his life, especially his wife, Stacey, who inspired multiple songs on the album including its latest single, "I Fall In Love With You Again."
"This song is all about the feeling of contentment that comes from sharing your life with the lady you can't stop looking at every time you see her," says Scott. "It's a rare thing… and it's better than all the riches in the world."