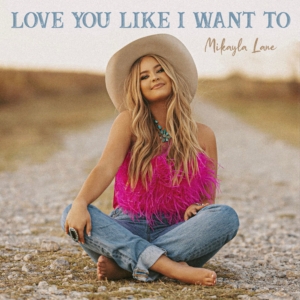 A cowgirl with "vocals unable to be fenced in (American Songwriter)," singer-songwriter Mikayla Lane showcases her sentimental side with new single "Love You Like I Want To," available everywhere today. The track was co-written by Mikayla, demonstrating yet again that the country songstress has a "knack for storytelling that proves she's wise beyond her years (CMT.com)."
"'Love You Like I Want To' is an upbeat backroad driving kinda song. I wrote it around an "Oklahoma love story," and it's how a lot of these real life stories go!" shared Mikayla.
Mikayla was just announced as a performer during Boot Barn's takeover at Hard Rock Cafe Nashville June 8 – 11, alongside Brian Kelley, Lucas Hoge, Hailey Whitters, Tenille Arts, David Nail and more. The Oklahoma-raised singer will also be performing at Legends Event Park in Chickasha, OK on June 2 and Billy Bob's iconic stage in Ft. Worth, TX on June 3, as she opens up for country legends Shenandoah.
Last month Mikayla opened up for Aaron Watson in Midland, TX at the Horseshoe Arena for a special Fossil Fueled event put on by Innovex. The show benefited Oil Patch Kids, a volunteer organization that supports children of the permian basin by providing funds to organizations that serve at risk children who are victims of abuse, neglect or poverty.
Earlier this year, Mikayla hosted a pop-up shop at The Showroom Nashville to showcase the Mikayla Lane Collection – her exclusive line of high-end western fashion, which features handbags custom made by Alamo Saddlery in Del Rio, TX. Each bag is made of the finest leather and stitched to perfection. Every detail is patiently and meticulously handcrafted, creating a truly one-of-a-kind creation.