MIDLAND DEBUTS THE LAST RESORT
Five-Song Collection Available Now: https://Midland.lnk.to/TheLastResortPR
THE LAST RESORT Fall Tour Launches October 7 Following European Run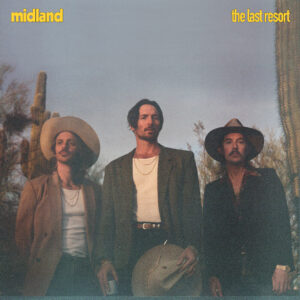 MIDLAND'
s Mark Wystrach, Cam Duddy, and Jess Carson like their music straight-up. Hardcore country, the kind you find in forgotten bars in Arizona, New Mexico, parts of Texas, Bakersfield, Reno, wherever the neon's buzzing, but not quite dead. The Grammy®-nominated trio brings a resurgence of their thick harmonies, sad melodies, tart lyrics and steel guitar with 
THE LAST RESORT
 available now via Big Machine Records: 
https://Midland.lnk.to/TheLastResortPR
.
When "Drinkin' Problem" hit, time melted. With an unapologetic profession of bar-fly reality, the steel wells up, Wystrach's voice lags as he walks listeners through the dissolving world of "living on the rocks." Reality was not one, but two Grammy® nominations for the unlikely trio who got together at a mutual friend's Montana wedding. Their vocal chemistry and overlapping musical influences forged an alliance that's created an oasis of Wurlitzer country for icehouses, taverns, beer joints, out of the way honky-tonks and other hole in the walls. Strung out on Gary Stewart, Midland represented a time in country music marked by the Dukes of Hazard, Clint Eastwood, Smokey & the Bandit, Trans-Ams, 18-wheelers, oil rigs, two lane highways, cheap cigarettes, mezcal worms and falling in love for the night. Not much has changed as the trio has changed 21st Century country for the post-Urban Cowboy set.. It's not fancy, but it's got style. Cool, kicked back, chilled out, real without trying, they understand it's now or never for this kind of country.
So, this is 
THE LAST RESORT
, a place that never forgets. Pour yourself a tall one, crack a longneck and settle in. It's one of those kinds of nights… or mornings after.
Midland isn't kidding about the past. They love Johnny Cash and Waylon Jennings, Merle Haggard, Gary Stewart, Willie Nelson, the Hanks – Williams, Thompson and Snow, Buck Owens, George Jones, Emmylou, Dolly, Loretta, Tammy, Porter Wagoner, Conway Twitty, Mickey Gilley, Glen Campbell, Johnny Lee. But it's not just vintage vinyl and 8-tracks, the threesome puts their music where their hearts are. They've taken their songs into the Sonic Ranch in Tornillo, Texas… brought their sweat- slinging live shows to Billy Bob's, the Houston Livestock Show & Rodeo… reanimated North Hollywood's legendary Palomino Club… put down roots in Dripping Springs and spent time around the Country Music Hall of Fame. Unfiltered, full-tilt, they want their country 120 proof. Whether it's a cheating song, a heartbreak ballad or a shoot-out-the-lights romper, they savor the notion and the emotions with a gusto unseen for decades and THE LAST RESORT is all about it.
THE LAST RESORT is all about it. Bits of Laurel Canyon, vintage Vegas, cowboy bars, Okie shuffles, Shelter Records, buckle-polishing and boots moving tip-to-tip across a sawdust floor, it's all here. Put it on, turn down the lights and melt into the music/songs.
THE LAST RESORT TRACK LISTING:
1. "And Then Some" (Jess Carson, Cameron Duddy, Mark Wystrach, Shane McAnally, Josh Osborne)
2. "Sunrise Tells The Story" (Jess Carson, Jessi Alexander, Aaron Raitiere)
3. "Two To Two Step" (Jess Carson, Cameron Duddy, Mark Wystrach, Shane McAnally, Josh Osborne)
4. "Take Her Off Your Hands" (Jess Carson, Cameron Duddy, Mark Wystrach, Shane McAnally, Josh Osborne)
5. "Adios Cowboy" (Jess Carson, Cameron Duddy, Mark Wystrach, Marv Green, JT Harding)
https://nashvilleinsider.tv/wp-content/uploads/2021/07/Midland_P_350_20210207_HSmith_FINAL_TLR_PRESS_DSC9892_crop-scaled.jpg
2560
2560
Michael Glynn
https://nashvilleinsider.tv/wp-content/uploads/2018/04/logo-yes.png
Michael Glynn
2021-07-17 19:16:32
2021-07-17 19:16:42
MIDLAND DEBUTS THE LAST RESORT