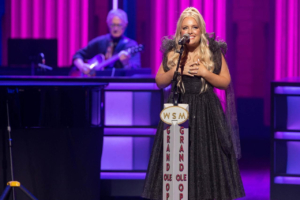 Rising Songwriter and Black River artist MaRynn Taylor received a warm welcome into the legendary circle of the Grand Ole Opry on Friday night, 6/23, by the great Jeannie Seely and went straight into a release day performance of her new song, "01." Following the emotional highs of her Opry debut performance, MaRynn was surrounded by her family, friends, and team in Studio A for an intimate reception. Accompanying the release of "01" is the lyric video that features MaRynn's drawings and a stunning acoustic performance video of the track.
In a lovely reunion, Jeannie Seely, who broke the news to MaRynn that she would be making her Grand Ole Opry debut, was gracious enough to be there for the rising country star and welcome her to the stage. Overwhelmed by the full-circle moment as she finished "01," the teary-eyed songstress introduced herself and shared her love of country music with the enthusiastic crowd.
"Hi, Y'all! I'm MaRynn. I am so overwhelmed and thrilled to be here. This has been such a dream of mine ever since I was little. I just love country music, as much as you probably do, and I'm so thankful that I get to be here."
Penned by MaRynn Taylor, McCall Chapin, and Alex Angelo and produced by GRAMMY winner Josh Kerr, "01" is both a heartfelt apology to her younger self and a reminder for today to tap into the fearlessness, knowingness, freedom, and open heart of her youth.
"This next song is at Country radio right now, and I wrote it with Mr. Dan Wilson, who is standing right up here," beamed MaRynn. "Oh, this is just so special, and I'm so thankful I get to share it with y'all. This is called 'Make You Mine.'"
With Wilson on guitar and background vocals to her right, she went on to a high-energy performance complete with rhythmic crowd participation of her radio single "Make You Mine," resulting in a rare standing ovation for her storybook Opry debut.
When the curtain fell and the lights came on in the Opry House, MaRynn's family and friends were treated to an intimate celebration of this milestone. Hosted by the artist's record label and publishing company Black River along with her management team, Jonas Group Entertainment, a cake and ice cream reception was held for her in the Grand Ole Opry's in-house television studio and home to HEE HAW, Studio A.
Further adding to the story of the girl from "01," MaRynn herself drew the images that are animated in the precious lyric video for the song. In the acoustic video, directed by Ben Oakes, it was MaRynn's vision that comes to life in the most beautiful and serene space, showcasing the growth that comes with the gift of perspective.