Ohio Native Opens Up Artistically and Personally Through Nostalgic, Reflective Six-Song Release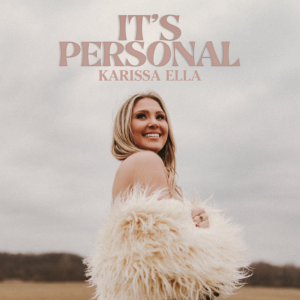 Singer/songwriter Karissa Ella is further cementing her status as one of country's music's most burgeoning talents with the release of her long-awaited EP, It's Personal.
True to its name, the new project showcases the Ohio native's infectious hooks and stunning vocals on material that is particularly personal to her and gives listeners a look into who she is as both an artist and an individual like never before. 
Produced by Casey Wood (Randy Travis, Reba McEntire, Charlie Daniels), It's Personal features all of Ella's latest releases, including "White Dress Worthy" – the heartfelt collaboration she crafted alongside her mother, Lori Haasz, which was featured on PEOPLE.com – as well as "Hometown Bar," which garnered a world premiere on CMT Music, and the good-time anthem, "Well Tequila."
The release of the new EP builds on what has already been an incredibly impactful year for Ella. 
She was recently selected as PickleJar and Cumulus Media's first-ever Spotlight Artist on their new syndicated overnight show "PickleJar Up All Night," which is currently playing the EP's focus track, "I Hope Heavens Like," across Cumulus Media Country stations in 47 U.S. markets. The support from Cumulus elevated Ella's song to #89 on Country Radio, an almost unheard-of feat for an artist not signed to a major record label, and it followed her standout debut CMA Fest performance before a generous crowd earlier this month. 
"I like to look at every project as a milestone and I'm really proud of the growth, maturity and vulnerability I've discovered over the past few years that led to and shaped this one," said Ella. "There were a lot of songs to choose from but I wanted each one on this EP to be a genuine and personal reflection of where I'm at in my life right now. My heart is happy these days and I think that's apparent throughout Its Personal. As far as milestones go, this is a big one and it's only the start of the reflective and expressive singing, songwriting and storytelling that is to come!"