New Stripped Track + Limited Edition Line of Candles to Honor Mental Health Awareness Month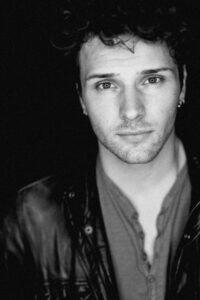 Nashville-based, pop-rock singer/songwriter Joel Crouse has released a new acoustic version of fan-favorite song "On My Way." As meaningful conversation around mental health continues this month for Mental Health Awareness Month, Crouse was inspired to share an acoustic version of the timely and important song, released yesterday on Mental Health Action Day, May 20.
The powerful and emotive track takes on a new sense of urgency with this new stripped production. Listen HERE. Both versions of the song were produced by Davis Naish and co-written with Kyle Rife and global superstar Ed Sheeran, who also supplied background vocals. The original studio version of the track has garnered 5.5 million streams on Spotify to date with Sounds Like Nashville declaring it has "a pop-folk sound as welcoming as a warm hug."
The song was written to bring awareness to mental health, a cause that continues to be very important to Crouse.
"The story of 'On My Way,' is a very personal one for me. A friend called me after knowing about some of the demons I had been dealing with myself and they told me they weren't doing well. Relating to the feelings and thoughts they were going through, I immediately hopped on the next flight to see them," shares Crouse. "I wrote this song as a reminder to everyone that you are never alone and there is always someone that will hop on that next flight that is just a phone call away."
In addition to the new acoustic track Crouse has partnered with Alchemist, a brand he uses in his daily life, to create 25 limited-edition Joel Crouse x Alchemist of Sol candles. The candles are the first of a series of limited-edition merchandise the singer/songwriter and entrepreneur will be dropping this year.
"Anyone who's been to my place or in my dressing room knows that I always have scented candles lit," says Crouse. "It's part of my daily routine. The scent of lavender takes me to a positive mental headspace and lets me relax and slow down a little. Hopefully these can help escape whatever is bothering you and take you to a positive headspace, which we all need more of these days."
Last fall the Massachusetts native released his EP, wasteland. Produced by Davis Naish the seven-song collection encapsulated his alt-rock sound and ushered in a fresh new voice to Music City's diverse sonic landscape. The project included "On My Way," named a "Song to Hear Now" by Rolling Stone. Listen to wasteLAnd HERE.
Now 28, Crouse was 17 years old when he decided to make the move to Nashville to pursue music professionally. He started playing dive bars and ended up opening for the likes of Taylor Swift and Ed Sheeran on Swift's RED Tour as well as four years on the road opening for Darius Rucker.
A formidable songwriter with distinctive vocals, Crouse garnered his first cut in 2019 as a songwriter with "Wildfire Love" on Hootie & the Blowfish's Imperfect Circle, written with Sheeran and Rucker. The same year he also lent his unique vocals to Warner Germany/Mentalo Music release "Broke," an energetic dance pop track he wrote for Hamburg-based DJ and producer Wave Wave.
About Joel Crouse
Originally from Massachusetts, Joel Crouse draws from local musical icons like Aerosmith, Boston and James Taylor. By age 16 he had already formed two original bands playing songs he wrote. At 17 Crouse decided to make the move to Nashville to pursue music professionally. He started playing dive bars and ended up opening for the likes of Taylor Swift and Ed Sheeran on Swift's RED Tour as well as four years on the road opening for Darius Rucker. A formidable songwriter with distinctive vocals, Crouse garnered his first cut last year with "Wildfire Love" on Hootie & the Blowfish's Imperfect Circle, written with Sheeran and Rucker. Recently he lent those unique vocals to energetic dance pop track "Broke," which he wrote for Hamburg-based DJ and producer Wave Wave. The singer/songwriter's EP, wasteLAnd, is available now and includes fan favorite "On My Way," written with Sheeran who also supplies background vocals on the track, as well as several songs including, "Survivin.'"
https://nashvilleinsider.tv/wp-content/uploads/2021/05/Joel-Crouse-Credit-Rob-Norris-scaled.jpg
2560
1707
Michael Glynn
https://nashvilleinsider.tv/wp-content/uploads/2018/04/logo-yes.png
Michael Glynn
2021-05-29 18:10:27
2021-05-29 18:20:19
JOEL CROUSE MARKS MENTAL HEALTH AWARENESS MONTH WITH RELEASE OF ACOUSTIC VERSION OF FAN-FAVORITE TRACK, "ON MY WAY"