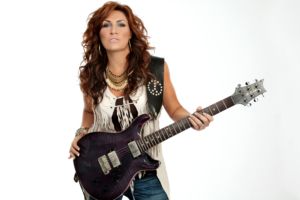 Country singer Jo Dee Messina is joining the lineup for the historic National Memorial Day Concert presented by PBS on Sunday, May 28. The celebrated event will again be hosted by Joe Mantegna and Gary Sinise and will feature many other notable performers including Trace Adkins, S. Epatha Merkerson, John Slattery, Dulé Hill, Yolanda Adams, Mary McCormack, The War and Treaty, Chosen Jacobs, Phillip Phillips, Megan Hilty and Jack Everly conducting the National Symphony Orchestra. The program will also include a tribute to Vietnam War POWs and Gold Star families, as well as a commemoration of the 70th anniversary of the Korean War Armistice and a remembrance of World War II. Jo Dee will be accompanied by The National Symphony Orchestra as she performs "Heaven Was Needing a Hero," a song she wrote after we lost our first female soldier in combat.
The National Memorial Day Concert on PBS premieres on the Sunday evening before Memorial Day. Most stations air the Concert at 8:00 p.m. ET / 7:00 p.m. CT and repeat the program at 9:30 p.m. ET. The concert is broadcast on PBS as well as to our troops serving around the world on the American Forces Network. The concert can also be streamed live on their website, on YouTube, the PBS app and PBS.org. The concert will remain available for two weeks following the live broadcast.
About Jo Dee Messina
Jo Dee Messina is one of the most iconic country artists of the '90s and '00s and still has a reputation as one of the genre's most passionate, high-energy performers. In 1996, she kicked off her notable career with "Heads Carolina, Tails California," a single that immediately made her a household name. Following the success of her debut, Jo Dee posted nine No. 1 hits and sixteen Top 40 songs and has been recognized by the ACM Awards, CMA Awards and GRAMMY Awards. As Jo Dee's resumé grew, she proved to be a trendsetter and history-maker, becoming the first female in country music history to celebrate three consecutive multi-week, chart-topping songs. Over the years, Jo Dee has amassed over half a billion streams on Pandora, hundreds of millions of album and song streams on Spotify and Apple Music, and millions of views on YouTube. Her impressive listenership recently earned her acknowledgment for having one of the Top 20 country albums of the 1990s on Spotify. Additionally, her social media accounts are collectively followed by millions of fans. Jo Dee has been traveling the country receiving rave reviews for her authenticity, commitment and openness on stage. Hoping to inspire and enlighten fans from all walks of life with every step she takes, Jo Dee has made it her mission to present herself and her story with honesty, inviting fans to see behind the masquerade.