ALL-FEMALE COUNTRY FESTIVAL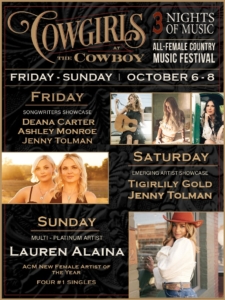 Critically-acclaimed singer-songwriter Jenny Tolman announces second annual Cowgirls at The Cowboy festival, which will be headlined by multi-platinum ACM New Female Artist of the Year Lauren Alaina.
Tolman is set to host and perform during the festival, which includes an all-female lineup staged at Jackson's iconic Million Dollar Cowboy Bar October 6-8. The three-night celebration of strong women in country music will feature some of the industry's hottest established and emerging female singers and songwriters.
"I'm so grateful to be presenting Cowgirls at The Cowboy music festival with The Million Dollar Cowboy Bar for our second year in a row! Getting to celebrate and bring some of the most talented and legendary women in country music to Jackson Hole is a huge honor. The Cowboy has such a special place in my heart, along with the people of Jackson, so I can't wait for them to experience the magic of Lauren, Tigirlily Gold, Deana and Ashley, for themselves!" Tolman exclaimed.
Kicking off the festival on Friday, October 6, Tolman will be joined by critically-acclaimed singer-songwriters, Deana Carter ("Strawberry Wine," "We Danced Anyway," "How Do I Get There") and Ashley Monroe (Miranda Lambert, Carrie Underwood, Sara Evans) for a writers' round.
On Saturday, October 7, Tolman and her band will perform new music as well as fan favorites. Co-headlining that night will be North Dakota native duo Tigirlily Gold, who have previously toured with artists such as Walker Hayes and Ashley McBryde. This year, the powerhouse duo took the internet – and country radio – by storm with the release of their rowdy single "Shoot Tequila," which has garnered over 50 million views across social media, and arrived to US country radio on March 13 as the second-most-added song upon impact.
Grand Ole Opry member and Big Loud Records powerhouse Lauren Alaina will headline the festival on Sunday, October 8. Her recently released debut EP, the six-song set fittingly titled "Unlocked," reintroduces the multi-faceted star, stripping back every layer, and allowing fans to know her more than ever before. Alaina has earned four chart-topping hits including RIAA platinum-certified "Road Less Traveled," 7x platinum "What Ifs" with her childhood friend Kane Brown, and 2x platinum "ONE BEER" with labelmate HARDY and Devin Dawson.
In conjunction with the festival, Tolman will be releasing a four-episode podcast, The Road to Cowgirls at The Cowboy, featuring interviews with Tigirlily Gold, Ashley Monroe, Deana Carter, Caitlyn Smith (who performed at last year's festival), and Carissa Culiner from CMT, who will, once again, be covering this year's festival. The first episode is slated to premiere across all podcast platforms on Wednesday, Sept. 6, followed by a new episode each Wednesday through the month of September, leading up to the festival. Tolman and her special guests will talk everything women-in-country, from the festival in Jackson Hole and life on the road, to music and motherhood.