The Munsick Boys Join On-Stage for Special Encore
Family Performance of "Weakness"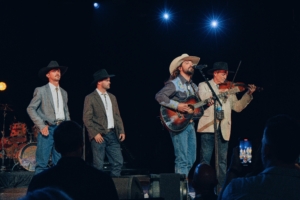 Wyoming native and Warner Music Nashville recording artist Ian Munsick arrived in Music City Tuesday (May 16), bringing White Buffalo – his free-spirited, awe-inspiring portrait of the American West – centerstage at Ryman Auditorium for his sold-out debut.
Opening with the tongue-in-cheek, uptempo first track "From the Horse's Mouth," Munsick traversed through each of the 18 songs on the project. Looking out at the electrified crowd with awe, Munsick expressed his appreciation, stating "Thank you guys, first and foremost, Nashville for believing in me. I know that what I do doesn't necessarily fit the mold, but I'm trying to break the mold."
Pausing halfway through the set, Munsick delivered a stripped-down performance of "Long Haul" off his debut album Coyote Cry, which received RIAA Gold-certification alongside "Long Live Cowgirls" – his hit duet featuring Cody Johnson which has reeled in nearly 100 million streams – during an industry reception ahead of the show.
Introducing the song, Munsick shared the news with the crowd. "About an hour ago, my label Warner Music had a party backstage and they gave me a plaque because my song 'Long Live Cowgirls' went gold," he shared. "To my surprise, they gave me another plaque because it turns out 'Long Haul' just went gold as well. Now, neither of these songs were on the radio very often. That just means that you guys made these songs go gold all by yourselves. So thank you for listening to my music – it's because of you that I get to be on this stage and I could never thank you guys enough."
After completing the album's tracklist with "Indian Paintbrush," the ecstatic crowd began stomping their feet, demanding to hear his stampeding breakthrough hit "Horses Are Faster," which inspired Munsick to move to Nashville and pursue his music career. After concluding his set with "Horses Are Faster" to astounding applause and a standing ovation, Munsick appeared for a special encore performance of one of his first recordings, a cover of Wade Montgomery's "Weakness," alongside The Munsick Boys comprised of his father Dave and brothers, Tris and Sam Munsick.
Addressing his family, he concluded, "You guys taught me everything I know about playing music, entertaining, being a cowboy – and most importantly being a man. Thank you to our beautiful wives. Girlfriends. Daughters. Sons. My mother, of course… Trudy Munsick. This last song we're going to do is a song that was written by a Native American cowboy in Montana by the name of Wade Montgomery, and I can't think of a better song to end it on because this song is about as Western as it gets."
Tuesday's show concluded Munsick's headlining Long Live Cowgirls Tour which sold out across the country, with highlights including stops in New Braunfels, TX; Baton Rouge, LA; and Denver, CO; and his first sold-out arena shows in Clive, IA; Ralston, NE; and Billings, MT.