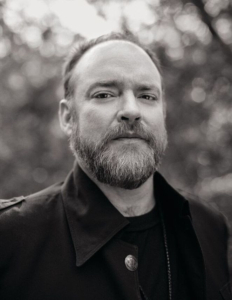 "Garden of Stone" is a deeply personal song written by John Carter, reflecting on the passing of time and the importance of preserving tradition and community. The accompanying music video, directed by his eldest son Joseph Cash and featuring John Carter's daughter AnnaBelle, adds a poignant visual dimension to the song's message. The bell used in the recording holds special significance, having been rung by the children and grandchildren at the family rose garden during the passing of John's mother and father, June Carter Cash and Johnny Cash. The final verse offers hope for the future, promising to build anew and create a new legacy in a "new Garden of Stone." The video can be seen here, and the song is now available on Spotify, Apple Music, and other streaming services worldwide.
Concurrently, John Carter Cash and The Cash Collective have released "King Of The Sky," along with a lyric video here. Co-written by Cash and Justin Johnson, a renowned guitar wizard with over 1 million subscribers on YouTube, the upbeat and lively song encourages listeners to let loose and dance without a care in the world, with lyrics drawing comparisons to eagles, cheetahs, and Fred Astaire. The catchy refrain of "nobody gonna stop us now" serves as a reminder to embrace one's confidence and pursue their dreams with determination. "King Of The Sky" can now be heard on Spotify, Apple Music, and other music streaming service providers.
Growing up among one of Country music's most recognizable families, there's no surprise that John Carter Cash would mature to become an accomplished and award-winning record producer. John Carter has produced hundreds of recordings for dozens of artists within the past twenty-five years, including Loretta Lynn, Elvis Costello, Jamey Johnson, Chris Cornell, George Jones, Jewel, Mavis Staples, Brooks & Dunn, Sheryl Crow, Kris Kristofferson, Norman and Nancy Blake, Marty Stuart, Carrie Underwood, Tanya Tucker, Emmylou Harris, Willie Nelson, Rosanne Cash, John Cowan, Vince Gill, Rodney Crowell, Carlene Carter, Reba McEntire, and John Prine. In total, he has been a producer on five Grammy Award-winning records.
The grandson of Maybelle Carter and the only son from the marriage of John R Cash and June Carter Cash, he preserves the family legacy and is a caretaker to the heritage of his musical ancestors. John Carter also owns and operates Cash Cabin Enterprises, LLC in Hendersonville, TN.