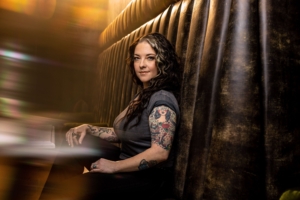 GRAMMY Award winner Ashley McBryde has spent most of her life on the road and often writes about her experiences being away from her loved ones, evidenced by songs like "Sparrow" and live set favorite "Made For This." With "Light On In The Kitchen," written by McBryde with Connie Harrington and Jessi Alexander, the Arkansas native celebrates the warm glow shared across homes around the world, a symbol of affection signaling that someone may be missing tonight, but thoughts of them are present.
"When I tell someone there's a 'Light On In The Kitchen' for them, to me it means you're thinking of them, even if they're not coming home that night," shares McBryde. "While writing this, we were all able to look back and remember the women in our lives who comforted us, gave us advice and made sure we knew we had a place to go. Writing this song showed me how necessary that simple comfort had been.
"I sent it to the important women in my life, and they reminded me that they still leave the kitchen light on for me, just like when I was growing up. Knowing someone, somewhere is thinking of you in that way can get you through a lot. And it's a bonus that now we get to say, 'I love you' or 'I'm thinking of you' by saying 'The light's on for ya.'"
Released via Warner Music Nashville, "Light On In The Kitchen" conjures up images of those late nights spent at the kitchen table with a trusted confidant, the one person in the world with which you can unapologetically be yourself, all while they give you a little motherly advice.