Nail Joined on Select Dates by Rising Artist Karissa Ella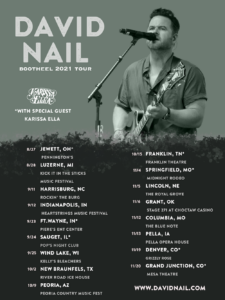 Country hit-maker David Nail announced today that he will be hitting the road this Fall for the Bootheel 2021 Tour. Kicking off in Jewett, Ohio on August 27, the country star will play through the Fall across the United States with stops from Michigan to Arizona and Oklahoma to Colorado. Rolling Stone lauds Nail as "one of country's most powerful and distinct voices" which will be on full display as he brings his GRAMMY-nominated showmanship to stages across the country. The tour, named after the "bootheel" of Missouri where Nail's hometown of Kennett is located, is a continuation of his Bootheel recording project launched with last year's Bootheel 2020 EP. Tour dates and tickets can be found at DavidNail.com.
"The past two years have been filled with reflection and melancholy for me. I lost my grandfather this year and we haven't been able to play as many shows as we'd like to be. At the same time, my wife and I had a baby girl last year and have been able to watch all three of our kids growing up before our eyes. Bootheel is an ongoing project about roots, family, life and love. We're excited to hit the road hard again and continue the Bootheel storyline this Fall," says David Nail.
Joining Nail on select dates will be country-riser Karissa Ella. Karissa's energetic live performances at places like the ACM-nominated Dusty Armadillo along with her breathtaking vocals attract audiences of all ages. Her new single, "Crackin' Cold Ones" comes out on Friday, August 27.
"I'm so excited to be hitting the road and opening up for David Nail this Fall! I am a huge fan of David's music and am eager to learn the ropes from someone I've looked up to for so long," says Karissa Ella.
As a multi-platinum recording artist with 2 No. 1 singles, "Let It Rain" and "Whatever She's Got" along with acclaimed hits including GRAMMY-nominated Kenny Chesney penned "Stealing Home," "Red Light," "Kiss You Tonight," "Night's on Fire" and more, David will be sure to put on an incredible show full of crowd favorites along with a preview of his new music.
Bootheel 2021 Tour Dates:
Aug. 27 – Jewett, Ohio. – Pennington's*
Aug. 28 – Luzerne, Mich. – Kick it in the Sticks Music Festival
Sept. 11 – Harrisburg, N.C. – Rockin' the Burg
Sept. 12 – Indianapolis, Ind. – Heartstrings Music Festival
Sept. 23 – Fort Wayne. Ind. – Piere's*
Sept. 24 – Sauget, Ill. – Pop's NightClub & Concert Venue*
Sept. 25 – Wind Lake, Wis. – Kelly's Bleachers
Oct. 2 – New Braunfels, Texas – River Road Ice House
Oct. 9 – Peoria, Ariz. – Peoria County Music Fest
Oct. 15 – Franklin, Tenn. – Franklin Theatre*
Nov. 4 – Springfield, Mo. – Midnight Rodeo*
Nov. 5 – Lincoln, Neb. – The Royal Grove
Nov. 6 – Grant, Okla. – Stage 271 at Choctaw Casino & Resort
Nov. 12 – Columbia, Mo. – The Blue Note
Nov. 13 – Pella, Iowa – Pella Opera House
Nov. 19 – Denver, Colo. – Grizzly Rose*
Nov. 20 – Grand Junction, Colo. – Mesa Theater*
*with special guest Karissa Ella
More dates to be announced…
About David Nail
Hailing from Kennett, Missouri, David Nail is well-respected up and down Music Row. The GRAMMY-nominated multi-platinum singer/songwriter's early releases, I'm About To Come Alive, The Sound Of A Million Dreams, I'm A Fire and Fighter, ignited his reputation as an innovator and creative risk-taker yet left Nail feeling restless. Through dealing with his own journey of mental illness and the feeling of needing to "rebel against what people expect you to be," Nail began making his most "organic" work to date, David Nail & The Well Ravens, with Jason Hall and Andrew Petroff. That project liberated Nail and propelled him into his next adventure. Writing solo for the next few months led to his debut solo independent EP Oh, Mother, a reflective piece of work. That release was followed by Bootheel 2020, a project dedicated to the singer/songwriter's hometown in the "bootheel" of Missouri. Nail plans on releasing more music throughout 2021, leaving behind any self-imposed restrictions. In Nail's own words, "My philosophy has always been, I just hope to have a good enough year that I can have a next year while staying as true to myself as I possibly can." Find more at www.davidnail.com.
https://nashvilleinsider.tv/wp-content/uploads/2021/08/David-Nail-2.jpg
1280
1920
Michael Glynn
https://nashvilleinsider.tv/wp-content/uploads/2018/04/logo-yes.png
Michael Glynn
2021-08-27 21:40:26
2021-08-27 21:42:46
DAVID NAIL HITS THE ROAD FOR THE BOOTHEEL 2021 TOUR