Cowboys Honor Veterans Nationwide on November 12th During "Salute To Service" Football Game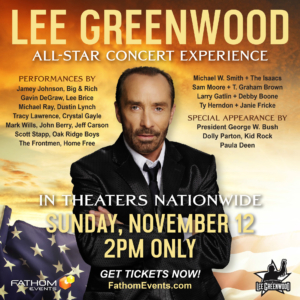 For the past two years, Lee Greenwood, known as America's Patriot, has appeared and performed during the Dallas Cowboys Veterans Day weekend halftime show! Greenwood would perform his chart-topping, award-winning anthem "God Bless The USA," and this coming Veteran's Day will be no different.
In addition, as Greenwood continued to honor Veterans, he, along with The Dallas Cowboys will challenge America to "Adopt A Vet" and send them to enjoy a one-night-only concert experience entitled 'An All-Star Salute To Lee Greenwood,' and will feature performances by Gavin DeGraw, Scott Stapp (of Creed), Lee Brice, Michael Ray, Dustin Lynch, Tracy Lawrence, Jamey Johnson, Big & Rich, Sam Moore, The Oak Ridge Boys, Crystal Gayle, Janie Fricke, Debby Boone, and so many more!
"I am honored to be invited back by the Dallas Cowboys to perform for their enthusiastic legion of fans," says Greenwood. "This Veterans Day is special to me as we have also launched this theatrical concert event to honor those who served that might otherwise not get a chance to get out of their homes due to PTSD or just plainly lack of funds. To have the Cowboys step up and buy out a couple of theaters and now to challenge other NFL teams to do the same is remarkable. I hope other teams join the effort to support these Veterans!"
Anyone wanting to accept America's Veteran Challenge can go to adoptavet.com and donate $50. That will send a Veteran and their guest to the concert experience, and the sponsor will receive the concert experience on DVD in the mail. Everyone wins! Will you accept the challenge? The goal is 50,000 veterans!