COUNTRY MUSIC SUCCESS STORIES WITH CANDY O'TERRY PODCAST RELEASES INTIMATE CONVERSATION WITH SARA EVANS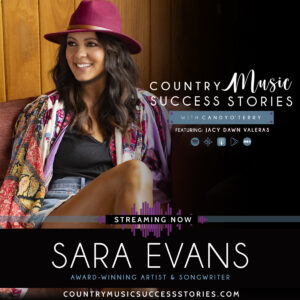 Longtime Country hitmaker, Sara Evans, joined award-winning broadcaster and podcaster, Candy O'Terry and Music City Mentor, Jacy Dawn Valeras on their current episode of their joint podcast project, Country Music Success Stories with Candy O'Terry. They say you should never meet your idols because you might be disappointed, but when Candy and Jacy pulled up to Sara Evan's home just outside of Nashville, and she greeted them with a warm hug and a welcoming smile at the door, they knew that their time together with Sara would be very special. Country Music Success Stories with Candy O'Terry is well on the way to becoming a success story on its own. Subscribe to the podcast here and listen on all podcast platforms here.
"I loved welcoming Candy and Jacy into my home to talk about my life and career," shared Sara Evans. "They were the sweetest!"
"This might be my favorite interview so far," says Candy O'Terry. "With five #1 songs, an ACM Award for Top Female Vocalist, a CMA for Video of the Year, Grammy, Billboard, BMI, R&R, CMA & ACM nominations, and 10 studio albums, Sara Evans is a success story by any standard, but it is her personal story that really blew us away. Turns out, the girl next door who sang Suds in the Bucket really did grow up on a farm in Missouri, with the clothes hanging out on the line."
"Having the opportunity to sit down and talk with Sara, an artist I have personally admired for so long, was truly a career highlight for me,"  shared Jacy Dawn Valeras. "The wisdom and advice she graciously and honestly gave me to pass along to our listeners has been one of my favorite moments in the podcast so far."
Future guests will include Jim Messina, Bill Anderson, John Schneider, Jim Vest, Chris Lindsey, Pam Lewis and many others, including surprise guests along the way. Past guests have included Collin Raye, Aimee Mayo, John and Robin Berry, Steve Dorff, Naomi Judd, Jeannie Seely, Crystal Gayle, Lori McKenna, Karen Staley, Kent Blazy, Larry Strickland, T.G. Sheppard and Kelly Lang.
The popular podcast is the 2021 winner of two Awards of Distinction recognized by the Communicator Awards for Best Host, and Best Music-based Podcast. The popular podcast made its debut on in the top #25 on Apple Podcasts USA Music Interviews Chart and has been picked up by iHeartMedia, the #1 commercial podcast publisher globally and RADIO.COM which is powered by Entercom, the 2nd largest radio group in the country and the top podcast producer which includes 800+ streaming stations across the US.
In this Nashville based podcast, radio legend & master interviewer Candy O'Terry goes straight to the pros to hear their stories. From singers to producers, songwriters to record label executives, radio programmers and DJ's to PR and marketing pros, every episode is a deep dive into what it takes to succeed in the country music industry. If you want to make it in Nashville, you need a roadmap. Music City Mentor and Founder of Platinum Circle Media, Jacy Dawn Valeras provides valuable advice about everything from writer's rounds to online marketing and building a network that will go the distance
After spending a week together in Nashville with the idea of doing a 4-part series for O'Terry's award-winning podcast and radio program The Story Behind Her Success, the two realized that the city was rich with stories to tell and that a platform for music industry stories, combined with the rich content Valeras had accumulated through her YouTube series, might be a hit.   As life-long singers and country music fans, Candy & Jacy have a clear vision of the guests they seek.  "We're on the lookout for women and men who aren't afraid to tell the world how they got to where they are today in the music business, including the good times when they were riding high, and the bad times when they were on the verge of giving up. These stories are meant to teach and inspire others to take a chance on living their dreams."
Stay current with Country Music Success Stories on the website countrymusicsuccessstories.com and stay up to date on social media platforms Facebook and Instagram.
Stay current with Candy O'Terry on her website candyoterry.com and follow her on social media platforms Facebook, Twitter and Instagram.
Stay current with Jacy Dawn Valeras on her websites jacydawnvaleras.com and  platinumcirclemedia.com and follow her on social media platforms Facebook, Twitter and Instagram.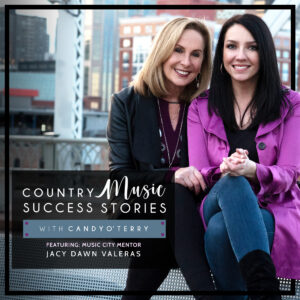 About Sara Evans: 
Multi-platinum entertainer Sara Evans is at the top of her game. As the fifth most-played female artist at country radio in nearly the last two decades, her five No. 1 singles include "No Place That Far," "Suds In The Bucket, "A Real Fine Place To Start," "Born to Fly," and "A Little Bit Stronger," which spent 2 weeks in the top spot and was certified platinum by the R.I.A.A. Sara's "stunning, country voice" (Rolling Stone) has earned her the prestigious Academy of Country Music Top Female vocalist accolade as well as numerous American Music Awards, Billboard Music Awards, Country Music Association, CMT and Grammy Awards nominations. In addition, the CMA awarded Video of the Year honors for her hit chart-topping single, "Born to Fly" from her landmark double-platinum album of the same name.  Evans' discography also includes the platinum-selling studio albums Real Fine Place and Restless as well as the gold-certified projects Stronger and No Place That Far. Sara has continued to forge her bold, creative path with Copy That, which opened at #1 on the iTunes Country chart, released on her own Born To Fly Records on May 15, 2020. The 13-song collection, spanning six decades, showcased Evans' distinctive creative stamp on some of the most iconic songs in country and pop music, songs that have inspired her life and career, as well as shining a spotlight on some little-known gems. Copy That follows her critically acclaimed Words, which debuted at #2 on Billboard's Top Country Albums Chart in 2017. Last year brought album and touring collaborations with her children, Avery and Olivia Barker, for The Barker Family Band.  Sara released her memoir, Born To Fly, on September 8, 2020 through Howard Books, an imprint of Simon & Schuster. Named after her landmark double-platinum album, which celebrated its 20th anniversary this year, Born To Fly finds Evans opening up and sharing stories not only about her career and what it is like living in the spotlight, but about what inspires her and how her faith keeps her strong. For more information on Sara Evans, visit  SaraEvans.com and engage with her on Facebook, Twitter and Instagram.
Candy O'Terry:
Candy O'Terry is an award-winning broadcaster and podcaster.  Known as Boston's Beloved Radio Voice, she spent 25 years on the air at Magic 106.7/WMJX.  As the Founder of My Dove Productions, the Candy O Radio Network co-founder of the newly formed Two Dreams Entertainment, Candy's lens is focused on storytelling.  She is the host of The Story Behind Her Success weekly podcast and radio series, The Speaker Coach podcast, 16 Life Lessons Motivation Monday feature, and the Nashville-based podcast series Country Music Success Stories featuring business partner, Music City Mentor, Jacy Valeras. Chosen by her peers as the 2015 Massachusetts Broadcaster of the Year, Candy is the winner of 52 local and national awards.  Known for her unique ability to turn any interview into an easy conversation, she has interviewed 800 women from every walk of life, and counting. A lifelong singer, Candy's full-length CD Dream Come True includes songs heard around the world. She's no stranger to TV and film, having served as the center judge for 7 seasons on the Emmy Award-winning TV talent show Community Auditions, and as an actress in 4 independent feature films. Born in New York City and raised in Connecticut, Candy came to Boston as a 1-meter diving champion for Boston College.  The Co-Founder of Boston Women in Media & Entertainment, she is a sought after public speaker, communications coach, emcee, voice over talent, influencer and endorser. The consummate performer, Candy O has never met a microphone she didn't love!
Jacy Dawn Valeras:
Jacy Dawn Valeras has spent her entire career focused on both the performance and the business side of country music.  Born and raised just outside of Boston, she started singing professionally at 13 and by 19, Jacy Dawn was opening for country music legends like Reba and Willie at iconic venues like Madison Square Garden, the Bluebird Café and the Texas Troubadour Theatre. When vocal issues caused her to press pause on her singing career, Jacy Dawn knew she could combine her experience as a performer with her love of social media marketing, graphic design and content creation.  In 2012, she launched her Nashville-based company, Platinum Circle Media with a client roster that includes country music superstars, record labels and Fortune 500 companies who come to her for what she does naturally:  create star power. As the creator and host of the popular YouTube series Music City Mentor, Jacy Dawn shares her wisdom with rising artists and has developed a unique platform devoted to mentorship with over 250 thousand views and counting.  In 2020, she joined forces with Boston radio legend Candy O'Terry to create the award-winning Nashville-based podcast series Country Music Success Stories where music industry icons open the doors to their homes to share firsthand how they got to where they are today. In 2021, Valeras and O'Terry formed Two Dreams Entertainment, LLC with a vision to expand their brand through the creation of a robust website:  countrymusicsuccessstories.com, YouTube channel, vlog, and educational summits for the next generation of country music stars.
https://nashvilleinsider.tv/wp-content/uploads/2021/06/SaraEvans_Podcast.jpg
2100
2100
Michael Glynn
https://nashvilleinsider.tv/wp-content/uploads/2018/04/logo-yes.png
Michael Glynn
2021-06-24 19:23:49
2021-07-03 18:21:31
COUNTRY MUSIC SUCCESS STORIES WITH CANDY O'TERRY PODCAST RELEASES INTIMATE CONVERSATION WITH SARA EVANS