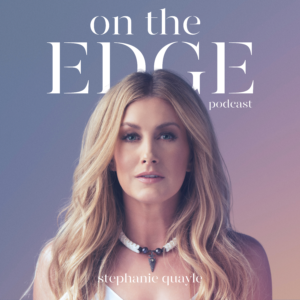 In November of 2022, Big Sky Music Group recording artist, Stephanie Quayle, released her most vulnerable and personal album of her career, On The Edge. Now, she is releasing the first season of her brand new On The Edge Podcast where she will chronicle the behind the scenes of each song off her latest album. Stephanie is inviting listeners on a journey of redemption as she discusses her evolution and how she redefined herself through honest discovery with the hope of helping others.
LINK:                     On the Edge Podcast: Episode 1
"I felt strongly that utilizing my voice in every capacity to share my own continuous journey of healing would go beyond the album. The podcast is a natural place for the conversation to continue and shed light on how I'm working through it all and maybe there are flickers of light that you can use in your own life. My hope is that you will be able to borrow courage if you are going through something difficult and know that you are not alone. We all have a voice —  and through that gift we can all amplify our voices to collectively create more space for empathy, kindness and understanding. The truth is difficult but like the very wise Robert Frost once said, 'the only way 'round is through.'"
-Stephanie Quayle
On the Edge Podcast will release 15 minute episodes weekly each Wednesday.
The album, On the Edge, is the true story of Stephanie's personal journey from loss, grief and betrayal to tears, laughter and love. The collection of songs was a soul-searching reconciliation of long suppressed trauma and triumph for Quayle – channeling emotions from one of the darkest times in her life.
Recently announced, Stephanie will be kicking off her On The Edge tour with two shows in Asheboro, NC on March 10th and Summerfield, NC on March 11th.