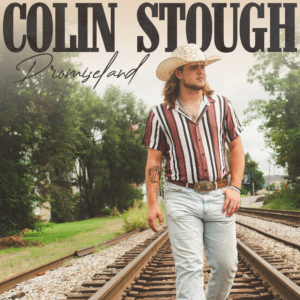 Colin Stough today releases "Promiseland," his first smash after his successful run on American Idol this year. Showing off his gritty and impassioned storytelling, with relatable lyrics and a hard-hitting beat, the high-powered record depicts a story of a young man who feels the pressure to make a name for himself but promises to always stay true to where he comes from.

Colin Stough is one of the most buzzed about newcomers in country music today, after taking top honors on Season 21 of American Idol. Stough, the "Brad Pitt of country music", as dubbed by Katy Perry "was born to be a star" and has "the taste" and the "vocal ability."
Stough has also released the dynamic official music video for "Promiseland". Shot in his native Mississippi, the video gives fans a glimpse into a day in the life of Stough. From riding one of his many motorcycles, cruising around in his pickup to working one of his horses, culminating in a packed house for a live show, Stough shows what his hometown of Gattman means to him and his creative journey. From working as an HVAC technician less than a year ago to winning the hearts of America on a national TV show and moving to Nashville with a record deal and a full touring schedule in hand, "Promiseland" is a love letter to the place where you can hang your hat, kick up your boots and take a deep breath, but only after a day of mischievous fun.
Stough says about the track and video: "Man, 'Promiseland' describes me and my roots. It's a song about where I'm from; and, it's a reminder to myself that no matter where I am or what I'm doing, nothing or no one will change me."
"Promiseland" follows the release of Stough's debut song "Bad Day," a testament to the working man's plight to get through a particularly mundane day, and "I Still Talk To Jesus," a deeply personal depiction of Stough's struggle to find meaning in a lifetime of disappointments and letdowns, which ended up reaching the #5 slot on Billboard's Country Digital Song Sales Charts and #18 on Billboard's Digital Song Sales Charts.
Currently out on the road with headlining tour dates including a hometown show that sold out in one hour, Stough is quickly readying for his debut project.