The Definitive Docuseries on the Extraordinary Life & Career of the Iconic Willie Nelson
Award-Winning Filmmakers Thom Zimny and Oren Moverman to Direct Multi-Part Docuseries,
Willie Nelson Providing Exclusive Participation and Access to His Archives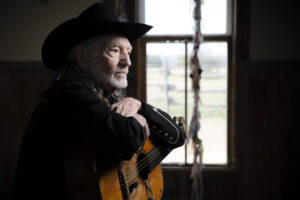 Blackbird Presents and Sight Unseen are thrilled to announce production is well underway on "Willie Nelson and Family," the definitive docuseries on the extraordinary life and career of the iconic Willie Nelson. Emmy Award® & Grammy Award®-winning filmmaker Thom Zimny and Academy Award®-nominated & Emmy Award®-winning filmmaker Oren Moverman are co-directors of this multi-part docuseries. Willie and his family and friends are providing exclusive participation and access to his archives. Filming is underway in the deep-rooted Nelson locales of Austin, Maui, Nashville, Los Angeles and New York.
The project was developed by longtime Nelson manager Mark Rothbaum and Blackbird Presents Founder & Chief Creative Officer Keith Wortman, whom have collaborated on several award-winning film, television and music projects. They identified the celebrated directors of Zimny and Moverman as uniquely suited to direct the series, along with Moverman's award-winning production company with Julia Lebedev and Eddie Vaisman, Sight Unseen, as a producing and financing partner. Executive Producers are Keith Wortman, Mark Rothbaum, Annie Nelson, Julia Lebedev, Eddie Vaisman and Leonid Lebedev.
"Telling Willie's story has been a lifelong dream of ours, and we feel privileged to realize this dream with Thom, Oren and Sight Unseen," said Rothbaum and Wortman.
"Words like 'honored,' 'excited' and 'humbled' don't come close to describing the way we feel about being entrusted with telling Willie's story. And what a story it is! We are celebrating the music, the career, the long road, the family, friends and history. But, more than anything, we are piecing together a narrative – one never before seen in its entirety – about an extraordinary man with a unique ability to bring people together; folks of all races, orientations, genders, political ideologies and musical leanings. These days, we sure could use the healing powers of Willie Nelson," said Zimny and Moverman.
At 88 years old, Willie is as vibrant, active and dynamic as ever. In the last year alone, he has led major online concert fundraisers for Farm Aid and the Austin Community Foundation. He was the voice of 13 major sports leagues as part of the Ad Council's national ad campaign on vaccination awareness. He released a No. 1 album of new recordings, That's Life, where he paid homage to his favorite Frank Sinatra songs, released his latest book Willie Nelson's Letters to America and performed and was celebrated in a once-in-a- lifetime music special Willie Nelson: American Outlaw on A&E. He is one of the musicians leading the charge to safely get back "on the road again" with the announcement of his full calendar of concert and festival dates in 2021.
About Willie Nelson
With a seven-decade career, Willie Nelson has earned every conceivable award as a musician and amassed reputable credentials as an author, actor and activist. He continues to thrive as a relevant and progressive musical and cultural force. In recent years, he has delivered more than a dozen new albums, released a Top 10 New York Times' bestsellers book, again headlined Farm Aid, an event he co-founded in 1985, been honored by the Library of Congress with their Gershwin Prize for Popular Song, received his 5th degree black belt in Gong Kwon Yu Sul, headlined the annual Luck Reunion food and music festival during SXSW, launched his cannabis companies Willie's Reserve and Willie's Remedy, and graced the covers of Rolling Stone and AARP The Magazine. In July 2020, Willie released his album First Rose of Spring – an atmospheric soulful showcase of beautifully-written songs and poignant performances. September 2020 brought a memoir with his sister and pianist Bobbie Nelson titled, Me and Sister Bobbie: True Tales of The Family Band. For 2021, he released a new studio album in February —That's Life, Willie's second album of standards and classics made famous by Frank Sinatra (his first, 2018's My Way, earned Willie the Grammy for Best Traditional Pop Solo Album). The two legends were friends, musical colleagues and mutual admirers of each other's work. In June 2021, a collection of his thoughts on America, family, faith and music hit shelves as a new book titled Willie Nelson's Letters to America. These creative endeavors as well as new songs and performances that add to his classic catalog, find Willie Nelson rolling at an artistic peak, writing and singing and playing with the seasoned wit and wisdom that comes from the road.
About Blackbird Presents
Blackbird Presents is an award-winning creator and producer of premium music-driven content via a range of strategies including all-star concert events, tours, festivals, broadcast specials and films. Its projects feature the biggest music stars in the world (including Dolly Parton, Bruce Springsteen, Keith Richards, George Strait, Steven Tyler, Willie Nelson, Chris Stapleton, Dave Matthews, Jimmy Buffett, The Roots, Carlos Santana, Peter Gabriel, Miranda Lambert, Kenny Chesney, Eric Church, Brandi Carlile, Lionel Richie, Reba McEntire, John Mayer, Kacey Musgraves, Darius Rucker, Jack Johnson, Robert Plant, The Avett Brothers, Sheryl Crow, Juanes, Van Morrison, Sturgill Simpson, Lady A, Little Big Town, Ringo Starr, Idina Menzel, Becky G, Nathaniel Rateliff, and many others), produced for a portfolio of studio and network partners including CBS, Viacom, A&E, AMC, CMT, Live Nation, AEG, Nederlander, Facebook, PBS and more. Recent music, film and television projects include Willie: Life & Songs Of An American Outlaw, Biography: Kenny Rogers, Imagine: John Lennon 75th Birthday Concert, Peace Through Music: A Global Event For Social Justice, Sing Me Back Home: The Music of Merle Haggard, The Life & Songs of Kris Kristofferson, Outlaw: Celebrating The Music of Waylon Jennings, I'll Take You There: Celebrating 75 Years of Mavis Staples, The Life and Songs of Emmylou Harris, The Musical Mojo of Dr. John: Celebrating Mac and His Music, and All My Friends: Celebrating The Songs and Voice of Gregg Allman, which earned a GRAMMY® Award nomination for Gregg Allman and Taj Mahal's awe-inspiring performance of Statesboro Blues.
Blackbird Presents is also the creator and producer of The Outlaw Music Festival Tour, in partnership with Willie Nelson; The American Roots Music & Arts Festival, in partnership with Eric Church; and The Last Waltz 40 Tour in partnership with Robbie Robertson.
https://nashvilleinsider.tv/wp-content/uploads/2021/07/WillieNelson-credit_-Pamela-Springsteen-scaled.jpg
1707
2560
Michael Glynn
https://nashvilleinsider.tv/wp-content/uploads/2018/04/logo-yes.png
Michael Glynn
2021-07-30 18:40:18
2021-07-30 18:49:11
BLACKBIRD PRESENTS AND SIGHT UNSEEN PICTURES PARTNER ON "WILLIE NELSON AND FAMILY"