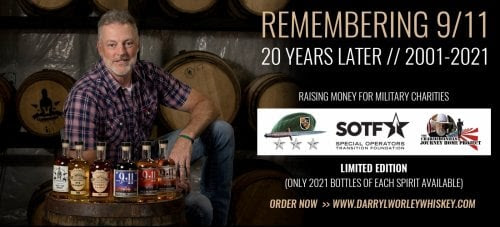 DARRYL WORLEY PARTNERS WITH LEATHERWOOD DISTILLERY TO RAISE FUNDS FOR MILITARY AND VETERAN ORGANIZATIONS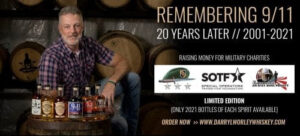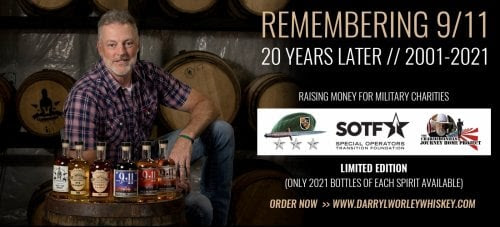 Country music hitmaker 
Darryl Worley 
partners with veteran-owned and veteran-operated
Leatherwood Distillery
 to launch a limited-edition spirits line to help raise money and awareness for veteran and military organizations on the heels of the 20th anniversary of 9/11. Known for his patriotic anthem, "Have You Forgotten?," Worley has been a staunch supporter of the US military having traveled abroad on multiple Stars for Stripes and USO tours to perform on bases in war zones.
Tune in this Monday as Worley visits with One America News Network (OANN), Circle TV, Newsmax, Fox 5 Las Vegas, and more, starting at 8:45am CST.
"I am excited to be working with Andy Lang and the folks at Leatherwood Distillery on this project," says Worley. "Andy is a special forces veteran, and we will never know what all those guys had to endure while serving our country. Helping raise money and awareness for their charity is something I feel very passionate about and it is truly an honor to have an opportunity to work with these quiet professionals."
Leatherwood Distillery will be creating 2021 bottles of Darryl Worley Bourbon, Darryl Worley Rye Whiskey, and Darryl Worley Sweet Feed Whiskey as well as 2021 bottles of Have You Forgotten Darryl Worley Moonshine in Peach, Apple Pie, and Elderberry flavors. The liquor will ship in August 2021, however, with limited bottles available a pre-sale is being offered to reserve your bottle(s) and help support the charities.
"Darryl is the perfect promotional partner for this endeavor as we are coming upon the 20th anniversary of the horrific tragedy of 9/11 and his song 'Have You Forgotten' really makes us think of how many have forgotten what took place that day," adds Andy Lang, President of Leatherwood Distillery. "September 11 is nothing to celebrate, it's a time to remember how all our lives changed and those who lost their lives for no reason."
About Darryl Worley
Darryl Worley debuted on the country charts with a trio of top-15 hits in 2000-01, "When You Need My Love," "A Good Day to Run" and "Second Wind." His breakthrough year was 2002 when Worley's touching ballad "I Miss My Friend," the title tune to his second CD, became his first No. 1 hit. After he spent Christmas 2002 entertaining America's troops in Afghanistan, Kuwait, and Uzbekistan, he came home and wrote the patriotic anthem "Have You Forgotten?," which became his second No. 1 song and remained at the top of the charts for six weeks. In the summer of 2004, "Awful Beautiful Life" was released and soon rocketed up the country music charts to become a multi-week No. 1. Worley has continued to release albums and participate in philanthropic endeavors.
https://nashvilleinsider.tv/wp-content/uploads/2021/06/DarrylWorley_Leatherwood.jpg
227
500
Michael Glynn
https://nashvilleinsider.tv/wp-content/uploads/2018/04/logo-yes.png
Michael Glynn
2021-06-15 21:24:20
2021-07-03 18:22:16
DARRYL WORLEY PARTNERS WITH LEATHERWOOD DISTILLERY TO RAISE FUNDS FOR MILITARY AND VETERAN ORGANIZATIONS